Wagner Meters Celebrates 50 Year Anniversary Serving Forest Products Industry
By:
Wagner Meters
|
Eric Wagner |
Published 07/08/2015 |
541-582-0541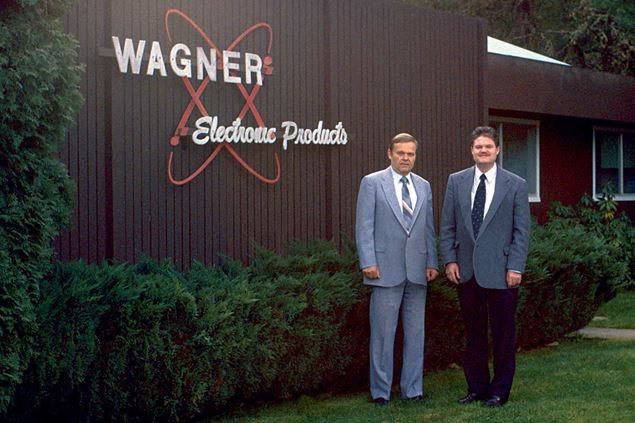 By Eric Wagner

This year Wagner Meters celebrates the 50th anniversary of a true American Dream story – the story of a young man who founded a small company and, with imagination and vision, strong values, and a commitment to making products that outperformed all others, built it into one of the premier moisture meter companies serving the Forest Products industry.

Although Wagner Meters began 50 years ago, the story of how we came to be starts a few years earlier . . .

It was sometime in the early 1960s at a sawmill in Redmond, Oregon.

Management was frustrated. Their traditional contact moisture detectors were giving them fits.

These detectors came in big, bulky cabinets equipped with radio vacuum tubes. Hard to use, hard to calibrate, and hard to interpret, it was no wonder they were troublesome.

My grandfather, Delmer Wagner, an electrician at the mill, saw this problem as an opportunity to find a better way to measure moisture in lumber. Energized by the challenge, he experimented with new designs and new technologies.

What he came up with was the first in-line moisture detector using transistors. Smaller and more compact, it cost less to make, was much more reliable, and easier to calibrate.

In 1963, shortly after the mill took out a patent on his newly-designed moisture detector, granddad left the company to teach at a local college. But after two years, he decided to start a business selling moisture detectors – a device he knew quite well.

He named his company Wagner Electronics. The year was 1965.

But to get his business off the ground, he needed a product. Working out of his garage in Terrebonne, Ore., granddad designed a second in-line transistorized moisture detector. This new, improved model was smaller than his original design.

But like any new product that comes out, there's always skepticism about its performance. Granddad overcame this obstacle with a gutsy approach.

He invited the mills to try out his new moisture detector for a month at no cost or obligation. Should they have a problem with the meter, they were to call him. If not, he'd return in 30 days to either pick it up or collect payment.

Not surprisingly, these new meters were a big hit. Sales took off and so did Wagner Electronics.

Wagner Electronics moved from Terrebonne in 1970 to its present corporate headquarters in Rogue River, Ore. It's here where we also design, test, and assemble all our moisture measuring devices.

Innovation Fuels Wagner Meters' Growth

I believe my grandfather's vision and creative thinking led to our company's success in those early years. He seemed blessed with an amazing intuition that led him – and the outstanding people he hired – to create a slew of new and innovative products that greatly improved the way moisture is measured.

For instance, following his invention of the first transistorized in-line moisture meter, he developed the first non-contact meter. This device never touched the wood, yet was still able to measure its moisture content.

This was huge for the industry. Previously, the mills had to slide the wood over the sensors to get a reading. But this caused it to wear out quickly.

And every once in a while, wood would jam up in the conveyer system and clobber the sensors. Sometimes they got hit so bad, they had to be returned to the factory to be rebuilt. So granddad's invention saved the mills considerable time and money.

Granddad also devised a way to calibrate the meters to moisture content percentage. The relative scale then in use was awkward and hard to adjust. His invention again saved time and made calibrating a lot easier.

In the late '70s, he also helped kilns improve their operation by inventing an in-kiln moisture detector. His first unit, Model 778, revolutionized the industry.

Today, we have the MC 4000. Much more sophisticated, it can interface with computerized kiln control system software packages. This gives the kiln operator an accurate moisture measurement and monitoring tool for better control over the kiln drying operation.

About the same time that granddad introduced the in-kiln moisture detector, he also figured out a way to use in-line meters to troubleshoot kilns.

Our series of troubleshooting tools and processes proved to be invaluable. Customers could now get the maximum value out of their wood. The amount of wood that came out too wet, with a need to be run through the kiln again, or too dry, causing it to warp, split and crack, had been significantly reduced.

At first, granddad used microprocessors to aid in the troubleshooting. Later, as the information sought became more complex and the technology became available, we connected a computer directly to our in-line moisture meters.

The combination of computers and in-line moisture meters told operators the moisture ranges of the wood throughout the kiln. It also enabled them to track charges throughout the months and seasons of the year. And they could also track one kiln against another to see which one performed better with specific wood species.

For instance, one kiln may dry better with one species, while another kiln dries better with a different species. This allowed operators to optimize what species of wood goes into each kiln.

We also devised a way to count the number of boards in different moisture categories – too dry or too wet. Kiln operators could then see if they were over drying or under drying. If they spotted a problem – for example, too much steam going into one end of the kiln – they could make adjustments and improve performance.

Eventually, we kept refining that process to the point where we were able to track where each stack of wood came from out of the kiln. We also developed a histogram that showed the moisture content of boards as they were distributed throughout the kiln. Operators could see precisely where their wet/dry spots were in the kiln.

And we even hooked up a printer to the in-line systems so operators could print out the histograms. Thus, based on the moisture meters' output, they could clearly see their problems and know what to correct.

Granddad and Wagner Electronics invented that whole process of kiln troubleshooting . . . a process that became a huge success. It has saved the mills hundreds of thousands of dollars.

I can imagine it was an exciting time in our history to be creating new products no one in the world had invented before.


From Father to Son

My father, Ed Wagner, started working for Wagner Electronics in 1967 at the age of 10. It was a way for him to earn spending money after school. He wired, assembled, soldered, welded, and tested meters.

By the time dad left for college, he was well grounded in all the technical aspects of the business. Shortly after earning a degree in engineering, he moved into management with his promotion to Production Manager.

When granddad retired about 1987, he sold the majority of stock in Wagner Electronics to my dad. Dad was then named president and CEO of the company.

Dad was cut from the same cloth as his father when it came to creating innovative products. In fact, one of the things my father invented was the hand-held moisture meter. He knew some mills were using hand-held pin-style meters, but they presented problems such as temperature sensitivity, which affected accuracy, and lack of depth measurement. This motivated him to develop an improved hand-held meter, one that was pinless.

Dad spent considerable time and effort developing the technology of the pinless meter, and making sure it was highly accurate. We started selling dad's first model, the L600, to the mills in the early '80s, though we didn't market it aggressively at first.

But we changed direction – and our marketing efforts – during the early 1990s recession. Hurt by the weak economy, the mills stopped buying capital equipment. This included the larger, more expensive in-line moisture detectors we were selling.

Since we knew the mills needed moisture meters, we stepped up our marketing of the smaller, hand-held pinless meters which they could better afford. Our efforts paid off. The mills were quite willing and able to buy them.

Fortunately, despite the recession, we were able to provide our customers with a meter they needed and could afford. So we survived.

We have continued refining and improving our original pinless model. Thus, each successive generation of pinless meters we brought to market was technologically more sophisticated and sported improved features.

Initially, we introduced the L600 models back in the '90s. Our latest model, the L622 digital recording lumber moisture meter, is a non-invasive wood moisture meter that comes standard with the Stat-Pack. This PC compatible software package enables users to create custom species lists, and to archive L622 data on a PC hard drive or external hard drive for long term storage, retrieval and report generations.

Another original concept he developed is the stack probe. With this device, kiln operators could take readings in the center of the stack. Today the Model L722 Stack Probe Sensor coupled with the L622 Digital Recording Moisture Meter makes it easy to reach deep into stickered units of lumber and take accurate moisture readings without the danger of broken pins. Wagner Meters' electromagnetic wave technology makes it it possible to take multiple readings throughout an entire stack in just minutes.

For 45 years we had operated as Wagner Electronics. But we realized our name didn't clearly address what we're all about – moisture meters. In 2010, we changed our marketing name to Wagner Meters.


The Key to Our Longevity

Fifty years is a long time for a company to survive. In fact, according to the latest statistics, the lifespan of many companies is typically 15 years.

So what is the key to Wagner Meters' longevity? Several things come to mind.

First, it's the dedication, creativity, and incredible work ethic of Grandfather Delmer and all the many excellent people who have ever worked for this company.

It's maintaining a family-run, family-oriented business adhering to solid core values . . . core values that have helped us make sound, ethical decisions.

It's sustaining a culture of innovation. Throughout our history, we've developed more innovative moisture measuring products than any other company . . . products that have radically reshaped the Forest Products industry.

It's manufacturing reliable, quality products built to last . . . products known worldwide for their accuracy and superb performance as documented by independent third-party testing.

It's being a leader in educating our customers about the characteristics of wood and how moisture affects it. This education effort started with Grandfather Delmer and it continues today through the use of trade journal articles, our website, the Internet, sponsored videos, social media, and more.

And last, but not least, it's putting a huge emphasis on our valued customers. We excel at listening to our customers . . . understanding their needs . . . and giving them an exceptional customer experience. It's no wonder we have thousands of loyal, satisfied customers – both here and abroad.

In closing, on behalf of my granddad, now retired, my father, and the best employees anywhere, I want to thank our Forest Products customers for their unwavering loyalty and trust in Wagner Meters these past 50 years. We greatly appreciate you and pledge to continue providing you with outstanding service and superior products for the next 50 years . . . and beyond.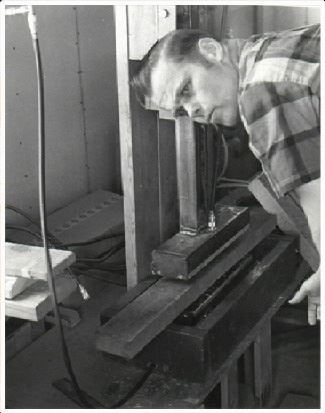 Delmer Wagner