Western Wire Products Celebrating 100 year of Sevice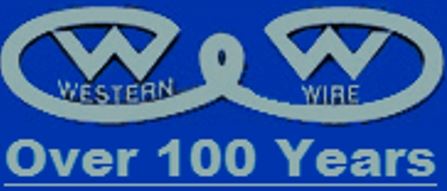 Although Western Wire Products is celebrating a 100th Anniversary in 2014, its origins date back to 1904 when the uncle of the company's founders invented a machine that made woven wire fabric. The patent on this machine is considered by some historians to be the original precursor to today's chain link fence.
The woven wire was made into door and bar mats and sold door to door by family members. Soon the wire fabric was used as a bed spring, marketed by the Great Western Wire Fence and Manufacturing Company. The "Never Sag Knitted Wire Bed Spring" gave a lifetime guarantee and was sold in several St. Louis stores and national wholesale hardware companies.
In 1912, another family inventor Ira J. Young applied for a patent on a machine for forming cotter pins. He manufactured cotter and split pins under the name Wire Manufacturing Company. Subsequently the assets of Wire Manufacturing were transferred to Western Wire Products Company, which was incorporated February 26, 1914. Harry M. Young, Ira's brother, and Alvin L. Bauman were the principle shareholders in Western Wire Products.
After Harry M. Young retired as president of the company, his son H. Melvin Young took the reins. H. Melvin (" Bus ") extended the company's product lines and introduced innovative production methods during his tenure which lasted almost 60 years. Current family member Gene B. Young has been with firm for 39 years.
Over the years Western Wire has occupied three different factory locations in the St. Louis area with its current 132,000 square foot operation in Fenton, Missouri. And while the company now operates equipment with the latest mechanical and electronic technologies including 18 CNC wire formers, some of those 1912 cotter pin machines are still hammering away to this day.
Examples of the company's current offerings are: the venerable split cotter pin, ring cotters, clinch pins, pipe hooks, perforated hanger bar, pipe straps, tie wires, tag fasteners, spring (roll) pins, hitch pin clips (AKA hair pin cotters), lock pins, hog rings, upholstery rings, J-hooks, S-hooks, V-hooks, D-rings, split key rings, lock washers, stud guards, and lock washers, and point of purchase hooks and hangers. The company also provides made-to-print wire forms, metal stampings and S-Irons.
Please visit our website at www.westernwireprod.com or give us a call at 800-325-3770.