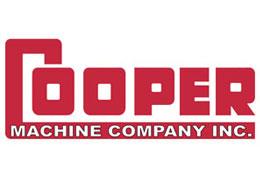 Cooper Machine Company, Inc.
478-252-5885
---
Cooper Machine Heavy Duty Debarker
Cooper Machine Heavy Duty Debarker
Now introducing the Cooper Stave Debarker. Debark logs 18" to 46" long and 8" to 34" in diamter. Comes with infeed plate slides, 48" long Stringer Bark King Debarker Head with 2 15/16" shaft and bearings, 125hp 1200RPM drive motor and drive, depth gauge plates in head, eyes for opening and closing log holding arm position, 1" AR log cage arm assembly with 3 7/16" Can Am pivot shaft bearings, 6"@20 beam, Six 21"OD, 1" AR Bull Wheels for Log Rotating and Removal. Debarked logs are dropped out below. You can open the cage and pass logs through if hog is down. Debarker will fit in the same spot as existing debarker. Comes with VFD and Soft Starter, Control Panel with Computer/PLC and Software to Auto Run Debarker. Cut down on your labor! One person can run the Stave Cutup System and Debarker. If you have short pallet logs you want debarked, this machine can handle that too!