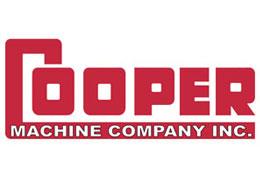 Cooper Machine Company, Inc.
478-252-5885
---
Cooper Machine MIT S.A. Vertical Band 1275
Cooper Machine MIT S.A. Vertical Band 1275
MIT has five models of their Vertical Band Resaw to cut varying widths and heights. The 1275 model uses a 6" band and has a 4'2" wheel. These resaws come with a line bar, variable hydraulic feed from zero (0) to two hundred and thirty (230) feet per minute, a live roller table with four (4) 6 ½ inch rollers, cartridge type pressure guides with the lower stationary, upper moveable, operator controlled, single or double hydraulic hauling and press roller drums, yoke and flywheel pistons of cast steel, air strain system with heavy duty air bag, using hydraulic hose for long lasting service and virtually no maintenance except for draining, electric motor activated system for raising and lowering flywheel, all systems are complete with valves, motors, cylinders, hoses, and controls, hydraulic system complete with tank, motor, pump, hoses, and valves, programmable measuring system using MUDATA microprocessor with ten position program and infinite variable parameters, and a main drive.
Line bar
Variable speed drive
Electrical control panel for either 50 or 60 htz
6" band and has a 4'2" wheel
a live roller table with four (4) 6 ½ inch rollers
cartridge type pressure guides with the lower stationary, upper moveable, operator controlled
single or double hydraulic hauling and press roller drums
yoke and flywheel pistons of cast steel
air strain system with heavy duty air bag, using hydraulic hose for long lasting service and virtually no maintenance except for draining
electric motor activated system for raising and lowering flywheel
all systems are complete with valves, motors, cylinders, hoses, and controls
hydraulic system complete with tank, motor, pump, hoses, and valves
programmable measuring system using MUDATA microprocessor with ten position program and infinite variable parameters
main drive includes 50hp motor, belts, and pulleys
complete electric panel with starters