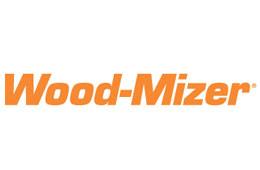 Wood-Mizer Products, Inc.
800-553-0182
---
Wood-Mizer EG400
Wood-Mizer EG400
The EG400 is a rugged board edger that is at home behind industrial headrigs or other applications requiring a fast, accurate heavy-duty board edger. Capable of processing material up to 36" wide and 4" thick, it is equipped with an automatic variable speed feed that is set by the thickness of the piece being edged. The 30HP is powerful enough to rip through thick hardwoods, but not big enough to break your energy budget. Two 16" inserted carbide teeth blades are mounted on a splined shaft and move in and out from center, allowing the use of an optional board tailer. Two lasers are included as standard equipment on the EG400, and it is equipped with anti-kickback protection and other safety features including a perimeter e-stop cable and electrically interlocked safety covers.
Two included standard lasers help to determine correct board position, increasing yield and grade.
Heavy duty chain-drive system for long life and low maintenance.
Anti kick-back fingers ensure safe operation.
Stops the blades and reverses the feed rollers to clear jammed boards.
Easily access both 16" blades which move in and out from center on a splined shaft.
Stops machine from 3 different sides.