Axis Forestry Launches Cutting-Edge Control System for Tree Processors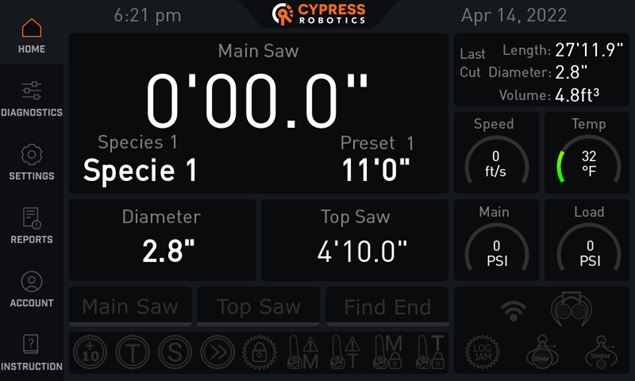 Axis Forestry introduces the Gen5 Cypress Robotics Controller to operate all makes and models of processor heads. The Cypress Robotics Controller is designed and manufactured in Canada and incorporates feedback from hundreds of logging contractors. Loggers want a tree processor controller that is simple to install, reliable, easy to use and affordable- the Cypress Robotics Controller delivers all of this and more!
The Cypress Robotics Controller matches powerful and modern software technology with tough and reliable hardware, creating an easy to navigate touch-screen operating system. The Cypress software is intuitive and easy to understand so operators do not require training and are operational within minutes. With simplified hardware and comprehensive video tutorials, the Cypress Robotics Controller is a breeze to install and configure for optimal operations. The Cypress Robotics Controller also includes a suite of onboard self-diagnostic tools and is well-supported by the team at Axis Forestry. Axis technicians can remotely log in to provide diagnostic support and software updates through a Bluetooth connection- no cell service required!
The Cypress Robotics Controller can be retrofit on to any existing brand of tree processor and offered at a lower price point than traditional tree processor control systems. For a limited time, Axis Forestry will buy back old computer control systems for a $3,500 dollar credit towards a new Cypress Robotics Controller. To find out more, visit www.axisforestry.com or call 360-656-6421.
About Axis Forestry:
Axis Forestry is a forestry manufacturing company founded in 2010, created to serve forestry logging contractors worldwide by providing replacement parts, new equipment, new modern computer technology, and strong customer support to optimize logging operations. Axis Forestry is an OEM manufacturer of the Rebel brand of Tree Processors and Cypress Robotics Controllers. Axis Forestry has two locations, one in Kamloops BC, Canada and one in Ferndale, Washington.