SSS SALSCO SAFETY SHIELD - NEW OPTION
By:
Salsco, Inc
|
Sal Rizzo |
Published 08/02/2021 |
203-271-1682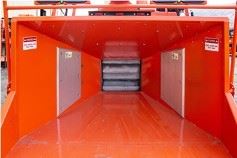 The SSS Salsco Safety Shield is a safety system that vastly improves wood chipping safety, proactively and effectively preventing wood chipper injury by shutting down the chipper's infeed system when an operator enters a defined hazard zone. The SSS Safety Shield is available for installation on all of Salsco's 10", 13" and 18" capacity engine driven chippers. We can install it on all new machines at the factory as well as existing machines out in the field. Give us a call if you have any questions on installation and pricing.

Salsco, Inc
800-872-5726
203-271-1682

Since 1979 SALSCO, INC. has built its record on quality and service. SALSCO manufactures Shavings Equipment, Slab Chippers, Wood/Brush Chippers, (PTO and Engine Driven up to 18" capacity) among other products. SALSCO has built its reputation over the last 40 plus years, by listening to our customers. The entire SALSCO team takes pride in producing equipment that allows our customers to meet their needs.