Wood-Mizer Introduces Pallet Recycling Systems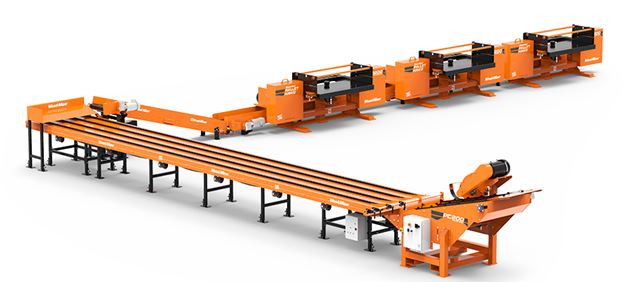 Wood-Mizer introduces pallet recycling systems designed to dismantle, trim, and recycle pallets all-in-line. Wood-Mizer pallet recycling systems combine world-class built in the USA pallet recycling equipment with efficient and configurable material handling equipment. In addition to complete systems, Wood-Mizer offers standalone equipment for the pallet industry including sawmills, horizontal resaws, gang saws, pallet dismantling bandsaws, power feed trim saws, and material handling.
With the ability to create configurable systems for a variety of operations, Wood-Mizer pallet recycling systems include a combination of pallet dismantlers, material handling equipment, and pallet trim saws. The Pallet Hawg® PD200 Pallet Dismantler dismantles pallets into boards and stringers for additional processing and features 60", 66", 72", 84", or 96" wide options with rear or center drop table options. Belted conveyors and cross transfer decks transport material for staging or processing and include configurable options such as length, height, and incline. The PC200 Pallet Trim Saw trims boards and stringers for further processing or assembly.
"Wood-Mizer is dedicated to providing the best-in-class equipment for a variety of timber and wood processing needs throughout the world," said Brad Kirkaldy, Wood-Mizer Pallet Recycling Product Manager. "The addition of our pallet recycling systems provide optimized equipment solutions for pallet businesses that are backed by our established network of service and support."
Wood-Mizer pallet recycling systems are now available in North America. Contact your local Wood-Mizer representative for a layout and quote. For more information, visit https://woodmizer.com.
About Wood-Mizer
Since 1982, Wood-Mizer has earned the reputation as a global-leading sawmill and woodworking equipment manufacturer with a strong legacy from its innovative sawmilling products. From Forest to Final Form®, Wood-Mizer offers an extensive line of equipment including portable and industrial sawmills, resaws, board edgers, wood kilns, planer/moulders, firewood processing equipment, pallet recycling equipment, material handling equipment, sawmill blades, and blade maintenance equipment. For more than 40 years, Wood-Mizer remains committed to serving sawmilling and woodworking hobbyists and professionals all over the world throughout an established and growing distribution network. Visit woodmizer.com for more information.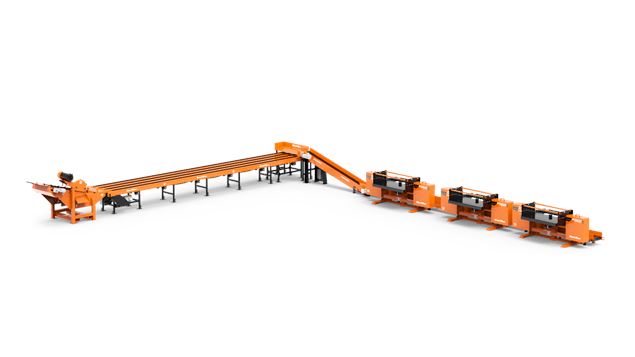 Wood-Mizer Products, Inc.
800-553-0182
800-553-0182

Since 1982, Wood-Mizer has become the world's largest manufacturer of portable band sawmills with tens of thousands of bandmills sold. Today, Wood-Mizer offers portable & industrial sawmills, resaws, edgers, kilns, log splitters, bandsaw blades and blade maintenance equipment for woodworking hobbyists and forestry professionals all over the world.