Wood-Mizer Introduces Compact HR150 and HR250 Horizontal Band Resaws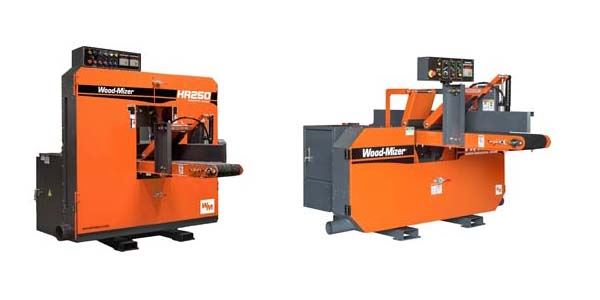 Wood-Mizer introduces the compact and versatile HR150 and HR250 super horizontal band resaws designed to easily integrate into pallet and lumber operations without taking up valuable production space. The HR150 and HR250 join the Wood-Mizer range of single and multi-head band resaws that capitalize on thin-kerf blade technology to produce accurate lumber while reducing material, labor, energy, and maintenance costs.

The HR150 super horizontal resaw is primarily designed to resaw cants and boards into two pieces with each pass. It can also be used as a recovery saw for slabs, flitches, and jacket boards. The HR250 is a twin blade version of the HR150. By placing one blade directly over the other blade within one compact head, the HR250 can make one or two horizontal cuts to resaw cants and boards into two or three pieces with each pass. It also works well with resawing stressed material.

HR150 and HR250 Super Features
- 11 ½" (290mm) wide x 10" (250mm) high capacity
- 0 – 90 ft/min (0 – 27 m/min) variable feed
- Setworks with digital blade position controls
- Air-over-oil hydraulic blade tension
- Pneumatic hold-down top rollers
- Variable blade speed
- HR150 starts at $13,295 USD
- HR250 starts at $19,995 USD

"Wood-Mizer is committed to providing our customers with the equipment necessary to be competitive in the lumber and pallet industry," said Greg Bacon Sales Director. "The HR150 and HR250 are compact and affordable resaws that satisfy the needs of mid-size pallet and lumber operations throughout the world."

The HR150 and HR250 are powered by 25HP (18kW) saw wheel motors and 2HP (1.5kW) gearbox motors. Both machines feature a material capacity of 11 ½" x 10" (290mm x 250mm) for the ability to resaw a variety of cants, boards, and jacket boards. With heavy-duty construction, premium components, and large 28" (710mm) diameter steel band wheels, the HR150 and HR250 resaws are built to last.

Control panel setworks with digital blade position controls in both imperial and metric ensure accurate height positioning of the blade when setting cut thickness. Each blade has its own setworks panel and is controlled and run independently. Pneumatic hold down rollers and an idle top roller keep material secure as it moves through the machine. Blade speed is variable to accommodate various cutting requirements and the variable feed speed is controlled by an electric motor for efficiency. Blade tension is automatic and controlled by an air-over-oil hydraulic system in order to maintain proper tensioning for longer blade life. Starting at $17,995 USD, the HR250 is also available in an economic manual version with manual saw wheel elevation, manual blade tensioning, and a single blade speed.


The HR150 and HR250 horizontal band resaws are now available to order. For more information, visit www.woodmizer.com or contact your local Wood-Mizer representative.


Wood-Mizer Products, Inc.
800-553-0182
800-553-0182

Since 1982, Wood-Mizer has become the world's largest manufacturer of portable band sawmills with tens of thousands of bandmills sold. Today, Wood-Mizer offers portable & industrial sawmills, resaws, edgers, kilns, log splitters, bandsaw blades and blade maintenance equipment for woodworking hobbyists and forestry professionals all over the world.