Wood-Mizer Introduces New Debarker for LT35 Portable Sawmill
By:
Wood-Mizer LLC
|
Chase Warner |
Published 07/31/2014 |
800-553-0182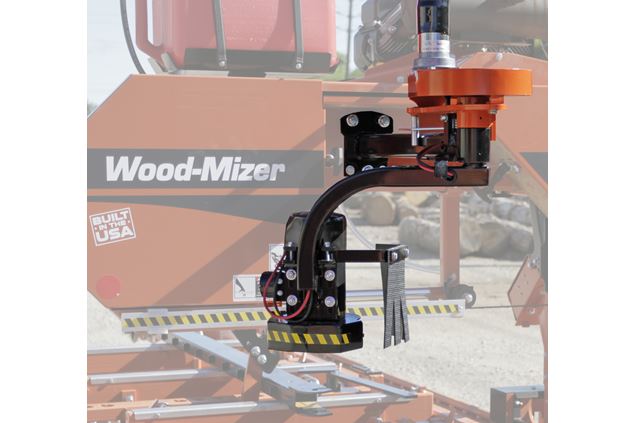 Wood-Mizer LLC, the world's leading sawmill manufacturer, introduces a new Debarker for the LT35 portable sawmill. Engineered to extend overall sawmill blade life, the redesigned LT35 Debarker improves functionality and efficiency for LT35 owners.

Featuring a powered in-and-out function, the LT35 Debarker is now controlled completely at the operator's fingertips. With this automation, sawyers experience an increase in overall sawing efficiency by eliminating manual setup time and effort. Additionally, the cutting blade rotates to direct debris away from the operator, enhancing visibility for the sawyer and providing a clean groove for the sawmill blade to pass through. The new LT35 Debarker is also positioned behind the rotating pivot arm in order to reduce operator difficulties if the Debarker blade catches irregular knots in the bark.

Main Features
Fully powered in-and-out controls
Upgraded ¾ HP motor
Directs debris away from operator
More efficient operation and functionality

"Wood-Mizer has always placed an emphasis on providing the highest quality products on the market," said Wood-Mizer's COO, Darryl Floyd. "The newly designed LT35 Debarker improves automation, control, and blade durability while providing our customers with the industry's best they have come to expect from Wood-Mizer."

The redesigned Debarker is currently available for all new LT35 sawmills. For more information, call 1.800.553.0182

###
As the leading manufacturer of portable band sawmills for more than 30 years, Wood-Mizer offers an extensive line of portable and industrial sawmill equipment. The company supports its equipment with legendary customer service, blades, and blade maintenance equipment. For more information about Wood-Mizer, call 800.553.0182 or visit www.woodmizer.com.

Wood-Mizer Products, Inc.
800-553-0182
800-553-0182

Since 1982, Wood-Mizer has become the world's largest manufacturer of portable band sawmills with tens of thousands of bandmills sold. Today, Wood-Mizer offers portable & industrial sawmills, resaws, edgers, kilns, log splitters, bandsaw blades and blade maintenance equipment for woodworking hobbyists and forestry professionals all over the world.