Wood-Mizer Introduces New Industrial Material Handling Equipment
By:
Wood-Mizer LLC
|
Chase Warner |
Published 06/30/2014 |
800-553-0182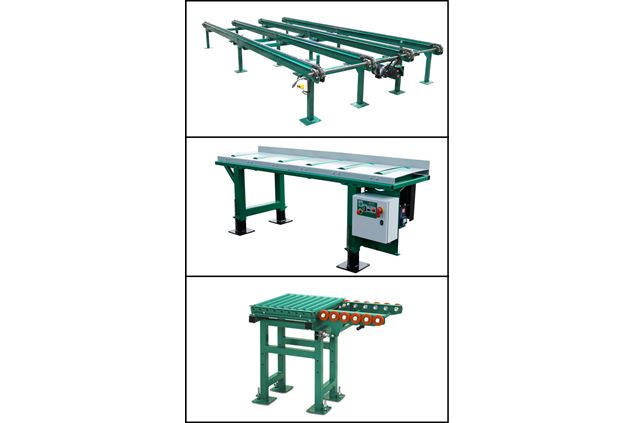 Wood-Mizer LLC, the world's leading sawmill manufacturer, introduces the Green Chain, Roll Case Conveyor, and Cross Roller Table as part of their growing line of industrial material handling equipment. By expanding equipment options for material handling, Wood-Mizer is enhancing efficiency, automation, and customization for industrial sawmill operations around the world.

Green Chain
Loaded with extra features, the Green Chain will move sawn lumber to its destination at a controlled rate. With a deck height of 33", the Green Chain is a three or four-strand, modular design that can be extended to 60' using 10' extensions.

Roll Case Conveyor
The powered Roll Case Conveyor facilitates the transfer of material to other operations downstream of the sawmill. The legs are adjustable from 35" up to 50" tall in order to match existing equipment and a wired remote control comes standard for optimum convenience and safety.

Cross Roller Table
Available for the Smart Log Processing line (SLP) and HR500 Resaw, the Cross Roller Table is a straight-forward, heavy-duty table for cross transferring boards back into the material flow for additional processing such as resawing and edging.

"An efficient lumber operation only begins with the sawmill," said Wood-Mizer Chief Operations Officer, Darryl Floyd. "By expanding our material handling equipment line, we are creating more opportunities and solutions for the efficient production of lumber in an industrial setting."

The Green Chain, Roll Case Conveyor, and Cross Roller Table will join Wood-Mizer's industrial line of equipment which includes headrigs, resaws, edgers, and material handling equipment. Wood-Mizer's industrial line is designed to produce accurate lumber while reducing capital, labor, material, energy, and maintenance costs. For more information on Wood-Mizer industrial equipment, visit www.woodmizer.com/industrial.

###

As the leading manufacturer of portable band sawmills for more than 30 years, Wood-Mizer offers an extensive line of portable and industrial sawmill equipment. The company supports its equipment with legendary customer service, blades, and blade maintenance equipment. For more information about Wood-Mizer, call 800.553.0182 or visit www.woodmizer.com.



Wood-Mizer Products, Inc.
800-553-0182
800-553-0182

Since 1982, Wood-Mizer has become the world's largest manufacturer of portable band sawmills with tens of thousands of bandmills sold. Today, Wood-Mizer offers portable & industrial sawmills, resaws, edgers, kilns, log splitters, bandsaw blades and blade maintenance equipment for woodworking hobbyists and forestry professionals all over the world.