Wood-Mizer Releases New LT15WIDE Sawmill
By:
Wood-Mizer LLC
|
Chase Warner |
Published 04/16/2014 |
1.800.553.0182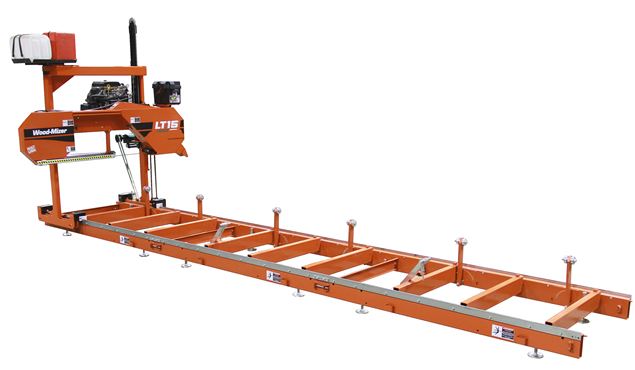 Wood-Mizer LLC, the world's leading sawmill manufacturer, introduces the LT15WIDE manual sawmill – a mill that expands the capabilities of the already versatile LT15 sawmill. Engineered to saw wider logs economically, the LT15WIDE will join Wood-Mizer's industry leading line of portable sawmill equipment.

With an 8-inch wider cut capacity than the standard LT15 model, the LT15WIDE is designed for sawyers looking to maximize cutting capabilities while minimizing investment. In comparison to the standard LT15, the LT15WIDE provides a heavier & wider bed frame, taller & heavier head supports and a higher production rating of up to 375 board feet per hour.

Main Features
36" maximum log diameter
17' 8" maximum log length, no limit with bed extensions
25HP gas, 17HP diesel, 10HP electric
power options
Six reinforced side supports with rollers

"The LT15WIDE will give you the versatility of our LT15 sawmill with the cutting capacity of a larger mill," said Wood-Mizer's COO, Darryl Floyd. "The LT15WIDE features a healthy amount of upgrades suitable for maximum production from a manual sawmill."

The LT15WIDE uses Wood-Mizer thin-kerf blade technology to reduce waste and maximize yield and is currently available for purchase. Wood-Mizer will continue to offer the standard LT15 sawmill, the LT15WIDE will be offered as an additional sawmill model option.

###

As the leading manufacturer of portable band sawmills for more than 30 years, Wood-Mizer offers an extensive line of portable and industrial sawmill equipment. The company supports its equipment with legendary customer service, blades, and blade maintenance equipment. For more information about Wood-Mizer, call 800.553.0182 or visit www.woodmizer.com.

Wood-Mizer Products, Inc.
800-553-0182
800-553-0182

Since 1982, Wood-Mizer has become the world's largest manufacturer of portable band sawmills with tens of thousands of bandmills sold. Today, Wood-Mizer offers portable & industrial sawmills, resaws, edgers, kilns, log splitters, bandsaw blades and blade maintenance equipment for woodworking hobbyists and forestry professionals all over the world.