Wood-Mizer Releases New Line of Lumber Drying Kilns
By:
Wood-Mizer LLC
|
Duston Moore |
Published 06/04/2015 |
800-553-0182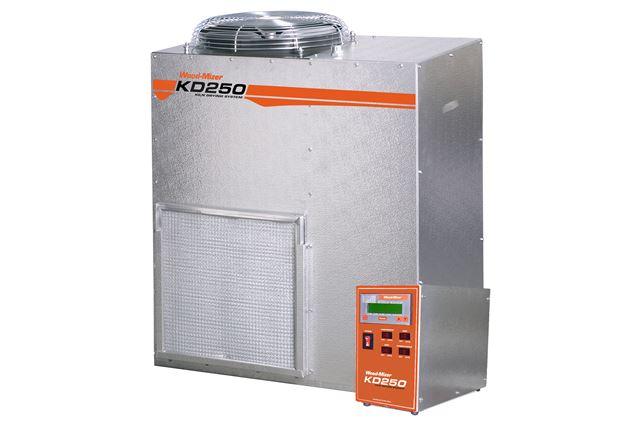 Wood-Mizer LLC, the world's leading sawmill manufacturer, releases a new line of lumber drying dehumidification kiln kits. The Wood-Mizer KD Series of kilns, ranging from 1,000 to 35,000 board feet capacities, offer a variety of lumber drying solutions for any sized operation.

Joining the Wood-Mizer KS50 Solar Kiln, the KD Series of Dehumidification Kiln Kits feature 100% corrosion resistant aluminum cabinets and specially coated dehumidification coils to ensure quality performance and an extra-long life.

KD150
• Capacity: 300- 1,000 board feet
KD250
• Capacity: 1,500- 4,000 board feet
KD450
• Capacity: 4,000- 15,000 board feet
KD550
• Capacity: 10,000- 35,000 board feet

"The KD Series gives both entry-level and mid-size lumber operations an opportunity to maximize the value of their lumber in-house while eliminating the need to rely on outside vendors for drying lumber," said Darryl Floyd, Wood-Mizer COO. "With the addition of our new kiln line, Wood-Mizer continues to remain committed to expand our equipment and services in order to satisfy our customers' sawing and lumber needs from forest to final form."

The Wood-Mizer KD Series of Dehumidification Kiln Kits is available for purchase. Visit www.woodmizer.com/kilns for more information.

###
As the leading manufacturer of portable band sawmills for more than 30 years, Wood-Mizer offers an extensive line of portable and industrial sawmill equipment. The company supports its equipment with legendary customer service, blades, and blade maintenance equipment. For more information about Wood-Mizer, call 800.553.0182 or visit www.woodmizer.com.


Wood-Mizer Products, Inc.
800-553-0182
800-553-0182

Since 1982, Wood-Mizer has become the world's largest manufacturer of portable band sawmills with tens of thousands of bandmills sold. Today, Wood-Mizer offers portable & industrial sawmills, resaws, edgers, kilns, log splitters, bandsaw blades and blade maintenance equipment for woodworking hobbyists and forestry professionals all over the world.