Don Dens Sales
218-348-7756

High Strength - Lightweight and BUILT to LAST Trailers! Call Us for ALL of your Transportation needs! Barko & Hood Loader dealer in Carlton, MN.
Viewing Page 1 of 1
13 Results Found

Don-Dens-Sales
218-348-7756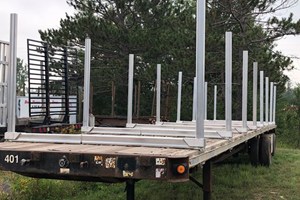 Easily adjust the width of these bunks to fit any trailer. Light weight and strong aluminum 6061 T6. One person can take them apart and put them together in minutes. 1 bunk bottom and 2x 5' stakes for only $550/each. Can customize these to suit so let us know how we can help with your project!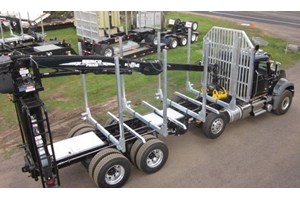 Complete Truck Bunk System Kit 4 Galv Bottoms w/Up To 9' Alum Stakes, Winches, Alum Front Rack Up To 9' Tall, Galv Low Grapple Carrier, 2 8' Alum Grapple Guards for in Between Bunks. Includes Mounting Hardware, $6,500 In Stock Ready To Go! Lighter and Stronger!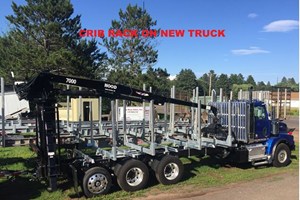 CUSTOM LOG BUNKS FOR TRUCKS AND TRAILERS - GALVANIZED STEEL BOTTOM WITH TWO ALUMINUM STAKES - Lighter and Stronger! IN STOCK Hood 7000 mounted on trailer, set up READY TO HAUL $78,500! 45' rail trailer, set up for randoms, 30k axles & suspension, LED lights Trailer Only Painted...................$42,500 w/FET Galvanized..............$44,500 w/FET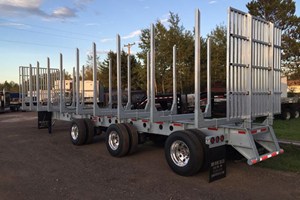 New Galvanized 47' 3 Axle 5 Bunk Log Trailer $49,500 w/FET • $47,500 w/FET • Painted Black All Alum. Wheels, Front and Rear Axles Lift, 30k Axles and Suspension, LED Lights - Lighter and Stronger!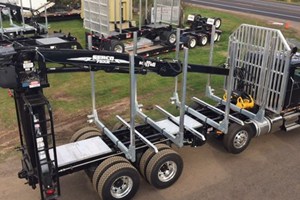 LOG BUNKS - GALVANIZED STEEL BOTTOM WITH ALUMINUM STAKES - EASY TO INSTALL - Lighter and Stronger!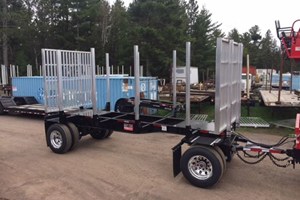 New Crib & Rail Pup Trailers Lightweight, high strength 130ksi beams. Rail.........$28,500 w/FET Crib.........$32,500 w/FET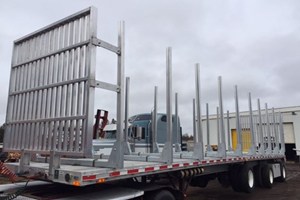 Complete 5 Bunk Kit with easily removable Aluminum Stakes and End Gates for Flatbed or Rail Trailers Kit includes: 10 Galvanized Bunk Bottoms, (20) Alum. 8' Stakes, Alum, Front and Rear Gates, Mounting Kit, $7,750 Galvanized Bunk Bottom w/(2) 8' Aluminum Stakes and Hardware $620 Alum. Stake 8'6..........$145 1999 International 2674 Flatbed Truck, s/n 1HTGLAET5XH539498, Cummins N14-370 diesel, 10-spd, A/C, with 12ft Flat Bed, 4400 hours 87,330 miles. Effer 170/3S, 16,755 Lb Knuckleboom Crane s/n 6E26389, with 35 ft. reach, 3 section hyd boom, dual controls, remote & 2 hyd outriggers, rear mounted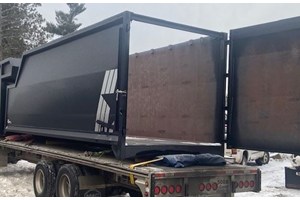 NeuStar HURRICANE BOXES 24'x102", 8' walls, AR450 floor and walls, height extensions available - cab shield setup for rear mount loader - setup for front mount log loader or trailer mounted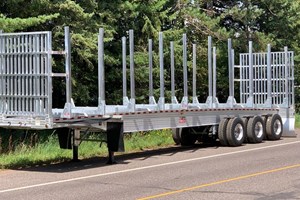 Std 3 Axles & 3 - 9's Spread IN-STOCK NOW! 2023 Ravens 5 Bunk Trailer, Empty WT 12,500#, Std With Front & Rear Lifts, 30K Intrax ED Long Travel Susp, Add $3600 for Disc Brakes. We have several used center mount loader trailers for sale. Please let us know what you are looking for and we will find it if we don't already have it! We have several used trailers in stock ready to haul. Let us know if you are looking for something specific.