Forestry Systems, Inc.
800-868-2559

FSI is the leading developer of software and hardware solutions for the hardwood lumber industry. The first to introduce a handheld Log Scaler, Chain Tally, and End Tally, as well as industry specific devices, such as the Lazer Scale™, End Tally Saber™, EZ Scale™, and Tally Pad™, FSI is consistently producing tomorrow's solutions for the hardwood lumber and logging industries. Used by over 600 operations today, FSI's systems are proven effective and backed by the best customer support available.
Viewing Page 1 of 1
1 Results Found

Forestry-Systems-Inc
800-868-2559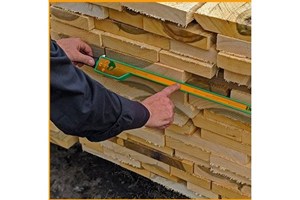 End Tally Saber™ is a proprietary touch ruler that tallies your lumber with pinpoint accuracy, stopping all claims in their tracks. Simply hold the Saber™ up to your pack of lumber and touch it! Not only is the Saber™ completely wireless, weatherproof and the fastest way to tally lumber, it also features the ability to generate a Graphic Tally Report™. This mobile device can render a graphic representation of a tallied pack of lumber, including piece count, species, thickness, footage, and more.