Firewood Wrappers For Sale
Viewing Page 1 of 1
4 Results Found
STANDARD LISTINGS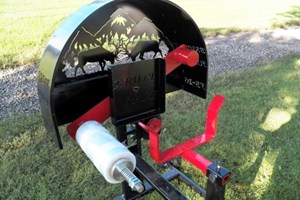 Brute Force firewood bundlers are built heavy duty for high production firewood bundling operations. Make the most profit from your firewood operation by selling bundled firewood. These bundlers are built to withstand the rigors of daily firewood production. Powder coated finish for long life & rust resistance. Electric bundlers come with a foot pedal to run the bundler. Make 1 cubic foot bundles, with up to 16? long pieces of firewood. Priced well below competing bundlers, you'll get more for your money when you buy from us! Made in Wisconsin USA!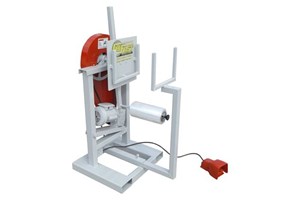 The Go Fast Firewood Wrapper is the only industrial duty firewood wrapper available on the market today. This machine can wrap a bundle in under 12 seconds, making it the perfect solution for banding firewood bundles. The wrap is tensioned by a standard nut that ensures tight bundles and maximum wrap usage. Our firewood wrappers are simply better by design and unlike other manufacturers, we use high speed farm duty motors along with lubed bathed gear boxes. This allows us to get a higher amount of torque from our energy efficient 1/3HP motor. These components have proven themselves to outlast the light-duty, low speed motors that are commonly found on other firewood wrappers.

Go Fast Mfg LLC

920-986-1173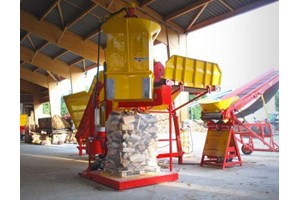 Different rectangular jigs to better fit the pallet: 80x120 cm, 100x120 cm, 120x120 cm. Industrial machine with hydraulic vibrating system for a better positioning of the log to gain a steady shape for palletising and for a better filling optimisation - a RABAUD exclusivity. Stretch and watertight plastic film (for dry wood) or net (green wood) Reel support with adjustable net tension system through a restrained roller. Hydraulic lifting system of the drum. Maximum height: 1.85 m (including the pallet)). Machine managed by a module. The operator can access the parameters to modify the net tension, number of turns and the timing of drum lifting. Possibility to wrap down with the drum placed in high position. Radiocontrolled machine. Hydraulic unit with three-phased electric engine (7.5 kw).

Global Land Equipment

631-898-5687