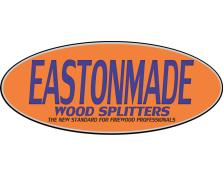 Eastonmade Wood Splitters
613-812-3213
---
Eastonmade
Eastonmade
The Eastonmade family of firewood conveyors are at the top of the market. They are all build with heavy 1/8" plate and are fully hydraulic. That's right, no belts, no chains, no silly winches, no pumping a jack, they're just build heavy and built simple. They easily compete with the best brands in the business. The chain drive is made from heavy duty 81X lumber chain the same as you would see on a live deck of a large processor or sawmill. The chain rides on its rollers the whole length of the conveyor to reduce wear and friction. They feature a 5hp Honda GX series engine that operates just above idle. You can expect to burn a little less than a gallon of fuel for a full 10 hour day. The hydraulic controls operate both the chain and the lift cylinder. They feature a pair of locking legs to relieve the stress on the cylinder seals when sitting for long periods. These are top quality conveyors built for the guy that wants to buy a quality piece of equipment and buy it once.
5hp GX SERIES Honda (most companies offer the offshore GC series for the conveyors)
5 GPM high pressure pump
Hydraulic Drive
Powered Hydraulic Lift (most companies use manual jacks and winches)
Chain Conveyor (Capable of working at much steeper angles and in harsher conditions than belts. Chain's also don't have tracking problems that are often associated with belts)
Galtech control valves
Locking Legs (most companies have the entire load of the conveyor rest on the cylinder/lifting mechanism)
Very well balanced, making it easy to move and adjust at the work site. One man can move it and adjust it on flat hard packed surfaces easily.
Models
STK 16 - 16' Overall Length
STK 24 - 24' Overall Length