Frontline Equipment, LLC
717-483-6556
Located in central Pennsylvania in the heart of the Allegheny Mountains. Established in 2012, with over 70 years of combined experience. We are housed in a newly renovated 13 thousand square foot building that provides the capability to meet our customers needs.
Frontline Equipment, LLC F42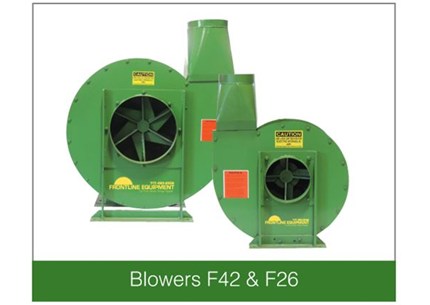 Blower F42 / F46 Frontline's blowers use heavy-duty steel construction for long life in handling sawdust, chips and shavings. Models 42 and 42M (6 blade) and models 26 and 26M (4-blade) are built with 3/8" steel for high volume and long life. Both the 42M and 26M have fabricated sloped sides for easy mounting of motors. Model 26 and 42 are designed for use where electric motors are chosen not to be used. Model 42 and 42M use 1/4" scroll sheet and side plates. Model 26 and 26M use 1/4" scroll sheet and 1/8" steel side plates and has a longer transition.
Frontline Equipment, LLC Log Jack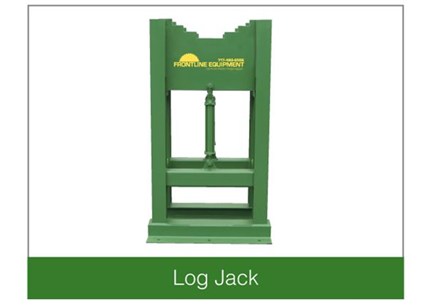 Log Jack Frontline log jacks are designed using heavy 4" H-beam uprights and a 1" thick steel log cradle that's notched for various diameter logs while being cut-up with bar chain. This unit has two independent working hydraulic cylinders to help prevent bar pinching. 2" x 14" hydraulic cylinders are standard and come complete with hydraulic valve and hoses.
Frontline Equipment, LLC Hydraulic Power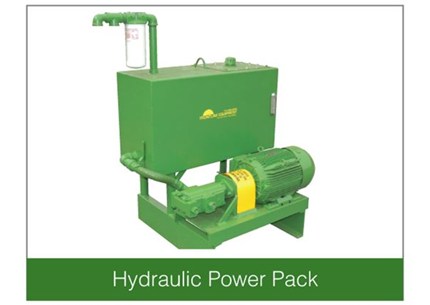 Hydraulic Power Pack Frontline's hydraulic pack is designed for use with Frontline Live Decks, Log Turners, Log Troughs, etc. or a free standing unit where hydraulics is needed. This unit is fabricated on a channel iron base with an all steel tank and supports. Various capacity oil tanks available for a wide range of usability. Units come standard with sight gauge - clean out plate with fill cap and breather, filter and plumbing for return and brass valve on suction line to pump. Various hydraulic pumps and electric motors for different applications. Unit are sold without oil and starter wiring is disconnected.
Frontline Equipment, LLC FT40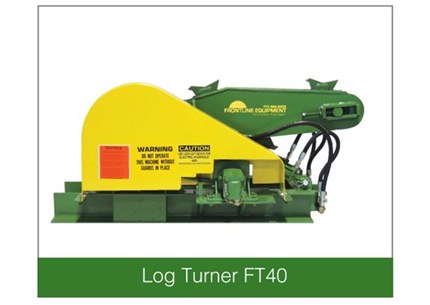 Log Turner FT40 / FT41 Frontline hydraulic chain turners are designed for turn-down or turn-up operation. Unit base and arm are heavy duty fabricated steel weld mounts. Ground and polished 1 15/16" dia. pivot shaft with four fabricated steel bearings with bronze bushings. Arm and chain movement controlled with 2-spool mono-block parker manual valve. Two models are available for smaller to medium size mills. Model FT40 is designed with two hydraulic cylinders and can work flat on the floor whereas Model FT41 uses one hydraulic cylinder and requires 49" from the top of the head block base to the floor. Model FT-40 only requires 30"
Frontline Equipment, LLC FT41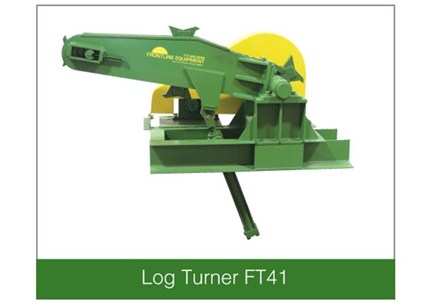 Log Turner FT40 / FT41 Frontline hydraulic chain turners are designed for turn-down or turn-up operation. Unit base and arm are heavy duty fabricated steel weld mounts. Ground and polished 1 15/16" dia. pivot shaft with four fabricated steel bearings with bronze bushings. Arm and chain movement controlled with 2-spool mono-block parker manual valve. Two models are available for smaller to medium size mills. Model FT40 is designed with two hydraulic cylinders and can work flat on the floor whereas Model FT41 uses one hydraulic cylinder and requires 49" from the top of the head block base to the floor. Model FT-40 only requires 30"
Frontline Equipment, LLC Waste Conveyor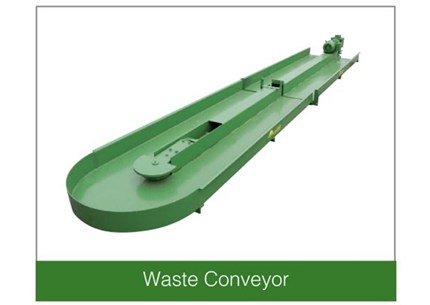 Waste Conveyor Frontline model FWC-3 waste conveyors are designed to give long service with little maintenance. Our 3/16" steel construction is heavier than industry standard. Direct mount motor and reducer design has no belts or guards because of enclosed design. Our drive and idler sprockets are steel and the idler sprockets have brass bushings and grease zerks. Our 5/8" chain is 80 proof coil for long life. These units are designed for under debarkers, hammermills, grinders, sawmills or anywhere that clearance and volume of material is a concern. 3/16" Flat Steel Plates formed with 6" High Sides and 1" Lip for Added Strength Steel Center Divider and Tail Pulley Take-up Assembly 5/8" Proof Coil Chain with Steel Flights Welded to Chain (to sweep the material away to discharge into a truck or pile) Debarker Unit has 30' Flat and 25' Incline Section 30º Maximum Incline Provides a 13' Clearance at the Discharge End 5 HP, 3-Phase Motor with a Dalton Slip Clutch Assembly Shaft Mounted Speed Reducer on 1 15/16" Shaft Steel Sprocket attached to Drive Shaft to move the chain Incline Section Comes with the Drive Mounted and the Idler Hold-down Rollers Mounted NOT INCLUDED: Wiring, Disconnects, Starter and Push Buttons Additional Length Higher Sides Up to 2 3/16" Dia Drive Shaft