Frontline Equipment, LLC
717-483-6556
Located in central Pennsylvania in the heart of the Allegheny Mountains. Established in 2012, with over 70 years of combined experience. We are housed in a newly renovated 13 thousand square foot building that provides the capability to meet our customers needs.
Blower and Fan
Viewing Page 1 of 1
Frontline Equipment, LLC F42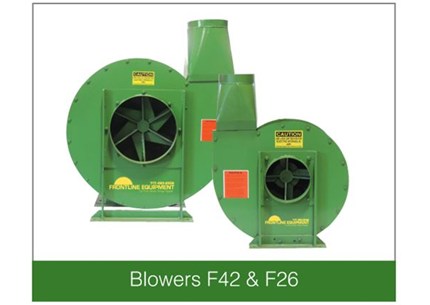 Blower F42 / F46 Frontline's blowers use heavy-duty steel construction for long life in handling sawdust, chips and shavings. Models 42 and 42M (6 blade) and models 26 and 26M (4-blade) are built with 3/8" steel for high volume and long life. Both the 42M and 26M have fabricated sloped sides for easy mounting of motors. Model 26 and 42 are designed for use where electric motors are chosen not to be used. Model 42 and 42M use 1/4" scroll sheet and side plates. Model 26 and 26M use 1/4" scroll sheet and 1/8" steel side plates and has a longer transition.