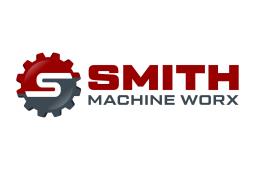 Smith Machine Worx
205-601-0044
Our parent company, Smith Companies, has built and operated sawmill, panel processing, plywood mill, solid wood packaging, and metal fabrication plants of its own across the USA since 1998. During that time, the mechanical expertise we have developed has created a new and separate business opportunity, Smith Machine Works. Call us and let us show you how we can make your business more efficient, productive, and profitable. Smith Machines Work!
Smith Machine Worx SMW-192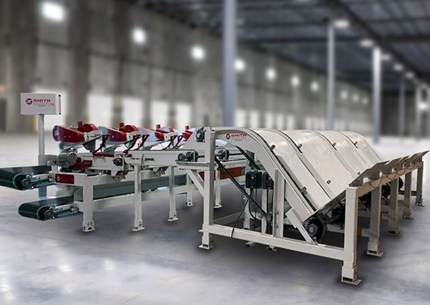 SMW-192 and SMW-240 Model Trim Saws Are you in the pallet, lumber processing, sawmill, or door industry? Do you waste time and money every day making several changeovers on your trim saw? Look no further, we have a solution. The SMW Trim Saw will be a standard 5 or 6 head multi-head trim saw featuring an optional digital readout screen. The digital readout is a digital screen we mount to the back of the saw to assist with head positioning. As you move each head, while you make a changeover, the digital readout will display the exact measurement the head is at. This cuts changeover times from 20-30 mins down to under 5 minutes. Before, you had to have 2 operators. 1 cranking the head down and the other measuring where the head is. Save time and increase volume and profitability.
Smith Machine Worx Custom Built Conveyors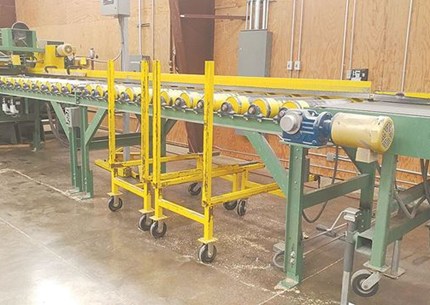 • Conveyors: Belt, Chain, Roller, and Powered Infeed/Outfeed. • Also, Chain Decks, Tilt Hoists, Unscramblers, Box Dumps, Recycling/Picking Lines, Turntables, Stacking Boxes, and Carts. • All Custom Fabricated Material Handling Items Considered • Many PLC Controls Options Available