Cleereman Purchases CPF Manufacturing to Increase Production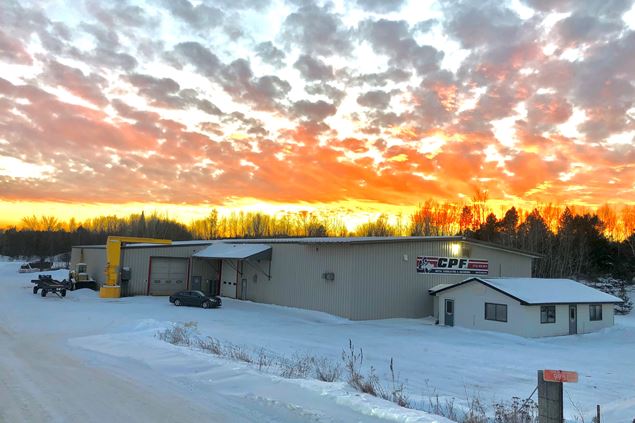 Cleereman Industries, one of the leading manufacturers of top-quality sawmill equipment, is proud to announce the purchase of CPF Manufacturing in Crandon Wi. CPF; a fully equipped and staffed, fabricating and machining facility. Paul Cleereman, VP of Cleereman Industries, said this new facility will be for the Cleereman Edger and Bandmill divisions along with some other Cleereman product lines. With our new Edger line and building bandmills for our Lumber-Pro's this purchase made sense. The 20,000 square foot facility is equipped with overhead cranes and has large machining capabilities that include three large boring bars, turning centers, drill presses, etc. as well as a full range of large welding positioners and several welders. The facility also has a large drive through media blast cabinet that is used for complete paint and rust removal of large equipment. This will be extremely useful when rebuilding Cleereman equipment for customers.
The newly acquired facility had a long-standing business relationship with Cleereman Industries for over 30 years and did a lot of machine work for Cleereman Industries including our new Edger Boxes. Due to the unexpected death of Larry Colburn one of the owners and a good friend of Cleereman Industries the opportunity arose to purchase the facility and create a stable and ongoing employment for all of the employees and the Crandon community. As well as providing a turn-key solution to Cleereman Industries for increasing demand for not only our Edger line but all lines of Cleereman equipment.
The Crandon location also allows us to draw from a different talent pool of employees from a different region then our current Newald facility. Cleereman looks forward to providing Crandon and the surrounding communities with great employment opportunities.
For complete details contact:
Cleereman Industries

www.cleereman.com · 715-674-2700

Cleereman Industries
715-674-2700

Cleereman Industries offers a wide range of sawmill equipment from Carriages to Track Frames to Trim & Grading Lines and everything in between. We are proud to be a leader in innovative and cutting edge sawmill equipment.