Cleereman Industries
715-674-2700

Cleereman Industries offers a wide range of sawmill equipment from Carriages to Track Frames to Trim & Grading Lines and everything in between. We are proud to be a leader in innovative and cutting edge sawmill equipment.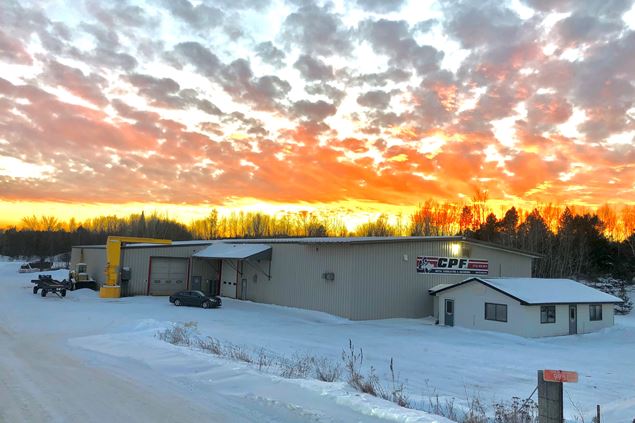 Cleereman Industries, one of the leading manufacturers of top-quality sawmill equipment, is proud to announce the purchase of CPF Manufacturing in Crandon Wi. CPF; a fully equipped and staffed, fabricating and machining facility. Paul Cleereman, VP of Cleereman Industries, said this new facility will be for the Cleereman Edger and Bandmill divisions along with some other Cleereman product lines. With our new Edger line and building bandmills for our Lumber-Pro's this purchase made sense. The 20,000 square foot facility is equipped with overhead cranes and has large machining capabilities that include three large boring bars, turning centers, drill presses, etc. as well as a full range of large welding positioners and several welders. The facility also has a large drive through media blast cabinet that is used for complete paint and rust removal of large equipment. This will be extremely useful when rebuilding Cleereman equipment for customers.
 The newly acquired facility had a long-standing business relationship with Cleereman Industries for over 30 years and did a lot of machine work for Cleereman Industries including our new Edger Boxes. Due to the unexpected death of Larry Colburn one of the owners and a good friend of Cleereman Industries the opportunity arose to purchase the facility and create a stable and ongoing employment for all of the employees and the Crandon community. As well as providing a turn-key solution to Cleereman Industries for increasing demand for not only our Edger line but all lines of Cleereman equipment.
The Crandon location also allows us to draw from a different talent pool of employees from a different region then our current Newald facility. Cleereman looks forward to providing Crandon and the surrounding communities with great employment opportunities.      
 For complete details contact:
Cleereman Industries

www.cleereman.com · 715-674-2700
---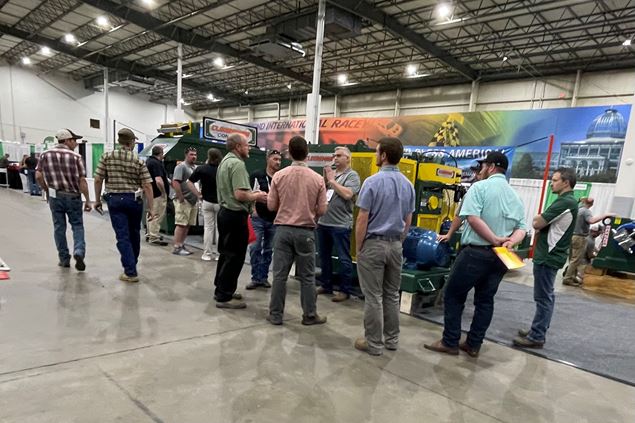 Richmond, VA - May 21, 2021 - Cleereman Industries introduced the latest addition to a now complete line-up of primary breakdown machinery.  Building upon a long-term reputation for superior customer service and long-lasting machinery that includes all types of material handling, debarkers, carriages, trimsaws and the revolutionary LumberPro, Cleereman Industries is approaching optimized edging the same way.  Company vice president, Paul Cleereman stated recently that with the successful addition of Cleereman Controls, a division of Cleereman Industries that provides setworks, scanning, optimization and flow control systems, adding a line of optimized edgers was the next logical step.
The new Cleereman edger line was produced following an extensive review of all major edgers currently available to locate fail-points and recurring maintenance issues with the goal of building the most efficient, durable and affordable optimized edger available today.
Poly belt drive system to eliminate chains and sprockets, huge 3 15/16" mandrels, full 1" thick main frames, revolutionary preliminary placement infeed table design, ductile saw collars, 8" chromed, knurled driven rolls, remote greasing and standalone oils system are just a few examples of how that is accomplished.  The new line of Cleereman Optimized edgers utilizes Joe Scan heads and is available in many standard configurations including; optimized and non-optimized, 2 or 3 saw, 4" & 6" depth of cut, 42"-54" wide options and even combination gang models.  In addition, every Cleereman edger comes with Cleereman Controls so you never deal with multiple vendors, providing a single point of contact for any unforeseen challenges for the life of your machine.
For complete details contact:
Cleereman Industries
715-674-2700
www.cleereman.com
---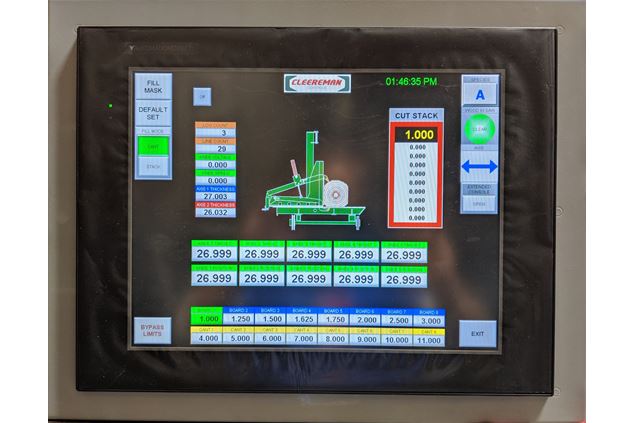 Newald, Wisconsin – After decades of working with the leading setworks and control companies, Cleereman Controls was officially founded in April 2019, to build upon parent company, Cleereman Industries' 64-year history of providing simple and innovative sawmill machinery backed by legendary customer service. Continuing in that tradition, a first-class team was assembled with Stefan Dracobly as president and Dan Tooke as Senior Optimization Engineer. Stefan formerly served as Vice President of Engineering at Lewis Controls bringing over 16 years of hands on experience integrating technology into the sawmill industry. Dan brings 23 years of experience, serving as a software engineer for Lewis Controls and Columbia Vista Corp and most recently at Maxcess Tidland as Controls Group Leader/Software Lead Engineer. Cleereman Controls mission is simply to provide Cleereman customers with the long-term security of knowing that product quality, performance and service is insured. Programming and software development will take place at our Vancouver, Washington office while panel construction and control testing will be conducted at the Cleereman Industries facility in Newald, Wisconsin. Cleereman Controls is currently offering complete systems for proportional, linear positioning and full scanning with your choice of BOF and MOF solutions for both new Cleereman installations as well as replacement and upgrading of existing systems. Recently installed Cleereman Controls systems include J.W. Perry Lumber in Caneyville, Kentucky and Soapstone Lumber in Peach Bottom, Pennsylvania with six additional systems presently in production.
---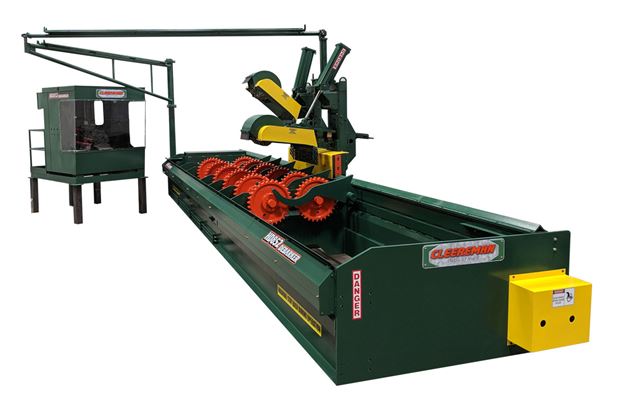 Cleereman Industries is built upon the very simple concept of providing only top quality machinery and industry leading service. Beginning in 1955 with the sale of the first Cleereman carriage, the product line now includes carriage drives, log troughs, log turners, all manner of material handling equipment and the revolutionary LumberPro. The new H.D. 852 Rosser-Head debarker is no different. Recognizing that IF Cleereman built a Rosserhead debarker it would be extremely heavy duty and incorporate improvements to address as many of the weak points of other manufacturer's designs. Improvements like: Cast alloy steel bull wheels, 3 15/16" bull wheel shafts, Cleereman HD carriage wheels riding on heavy duty replaceable vertical tracks, proprietary balanced ambidextrous segmented aluminum head, Cleereman exclusive Fixed Head Design on Swell Reducing Head creates the perfect profile, remote machine grease plate, comfortable operators booth with Cleereman exclusive Palm Flat Joystick controls mounted into a deluxe armrest joystick seat, Touchscreen-Diagnostic Control System for easy trouble shooting of machine. Fact is, Rosserhead debarkers haven't changed in over 50 years – until now. Such is the trust Cleereman owners hold for the company that the first Cleereman H.D. 852 Rosser-Head debarker was sold before it even existed in a blueprint. See the biggest leap forward in Rosser-Head design for yourself at the Richmond EXPO May 18th and 19th.
---

---