Sawmill Hydraulics, Inc.
800-245-2448
309-245-2448

Sawmill Hydraulics Manufactures Carriages, Scragg Mills, Log Turners, Double End Trimmers, Computerized Setworks, Feeds, Edgers, Resaw Systems, Rollcases, Belts, Decks and a wide variety of other sawmill equipment.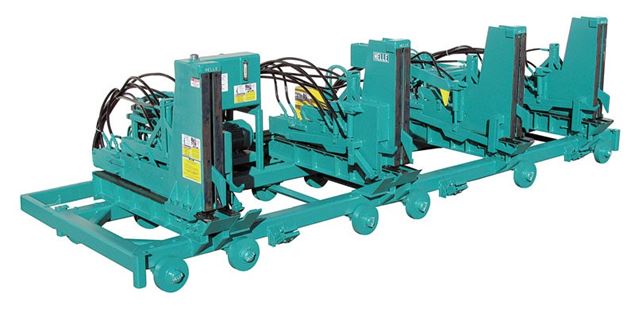 Sawmill operators are the number one engine for design improvements. Anticipating and addressing those needs has been the driving force of the Helle family and the entire staff at Sawmill Hydraulics since the creation of the hydraulic chain log turner. The new Compact Linear Positioning line of carriages from Sawmill Hydraulics is a prime example of addressing a critical need. LP technology has been unavailable to many mills due to the carriage width requirements and pricing that has put this important technology out of the grasp of many mills. To make LP technology available to every mill, Sawmill Hydraulics redesigned the way hydraulic cylinders are incorporated so the new Compact LP carriage is easily retrofit to nearly all currently running mills. This space savings also leads to tremendous savings on new mill projects as well. In addition to the revolutionary space saving design, every Compact LP carriage is tailored to your space, your needs and your product and comes standard with proven Helle Linear Tech Touch Screen Setworks as well as optional scanning, thus eliminating the need for third party setworks. See the Compact LP carriage at outside exhibit space C7 at the 2016 Richmond EXPO and schedule your no obligation on-site assessment.
---