Halverson Wood Products
218-587-2065

Halverson Wood Products takes pride in the design and functionality of its firewood processors. As the innovator in the all-in-one skid steer loader firewood processing attachment industry, Halverson leads the way in simple, rugged and cost effective machinery to save time and money processing wood. Our dependable machines will give you years of firewood processing from the comfort of your skid steer cab, no matter what the weather.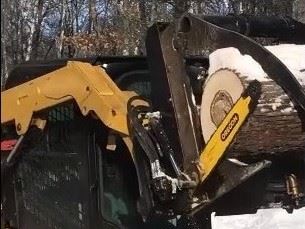 Halverson Wood Products is proud to announce that their long awaited HWP-125GS Grapple Saw is now available! This saw comes to you from the same people that provide the HWP-120, and HWP-140B Firewood Processors. The new Grapple Saw is perfect for those that have outdoor boilers, that only need to cut their firewood to length, and not have it split. It is also useful for those that have large diameter logs that are too large to fit on our normal processors. The Grapple Saw also works great for storm clean up, where trees have been blown over, allowing the Grapple Saw and skid steer to do all the work! To use the Grapple Saw, logs are picked up with the grapple, the operator engages the chain swathe, and the log is cut. The log or logs are put down, the skid steer moves over, picks them up again, and cuts them again. For longer wood that fits most boilers, the logs only have to be cut twice. For more information on this new Grapple Saw or our other firewood processors, please check out our website at www.halversonwoodproducts.com, or call us at 218-587-2065. About: Halverson Wood Products' Grapple Saw and other firewood processors are proudly built and assembled at their factory in Pine River, Minnesota.
---