Northeast Implement
888-589-6160
607-589-6160

Northeast Implement is the exclusive importer for the complete line of POSCH firewood machinery and the leading distributor of Tractor & Skid Steer Equipment for the Forestry and Light Construction Industries. We market winches, wood chippers, firewood processors, log loaders, forest trailers, custom DOT logging trailers and grapples throughout North America. Our products are designed for mounting on tractors, skid steers, excavators and self-contained trailers.
Viewing Page 1 of 1
6 Results Found

Northeast-Implement
888-589-6160
607-589-6160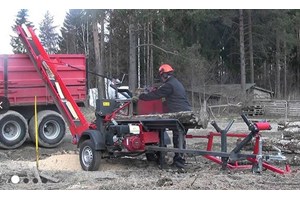 At Northeast Implement we are a stocking distributor - call 888-586-6160 The Farmi® Mastersplit Wood Processor is efficient because it performs multiple tasks at the same time. The hydraulic action that splits the log also advances the uncut log into cutting position. The chain saw can cut as soon as the log is pushed forward, even though the sled has not yet retracted: a safety stop prohibits the saw from cutting into the sled during the return. The conveyor works continuously to move the cut firewood, and it swings 30° right and left for convenient loading in multiple containers. Add the optional log loader, and this Wood Processor becomes a true one-person machine!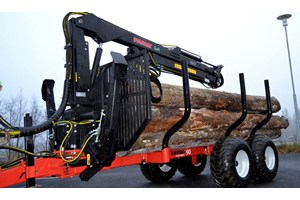 Northeast Implement is your Go-TO for FARMI® FOREST TRAILERS! Farmi provides outstanding stability and maneuverability, even on rough terrain. Low center of gravity, high ground clearance, tandem bogies, fully floating aka "climbing bogies," hydrualic steering with two cylinders, sturdy single beam frame, 4wd option (most models) and built to perform!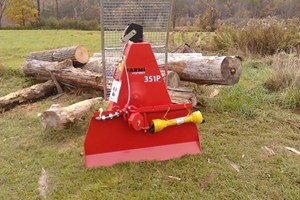 The Farmi JL351P logging winch is loaded with features to ensure safe and productive operation on small tractors from 17 - 50 hp. Both the clutch and the drum lock are rope controlled. The operator can stand safely to the side, away from the cable and the logs. Like bigger Farmi winches, the JL351P incorporates a modular winch mechanism, an automatic over-run brake device and the famous Farmi clutch mechanism to provide the ultimate winching experience in a small package: a rugged winch that operates smoothly. Call us today to find the best fit for you, models starting as low as $4,599 - 607-589-6160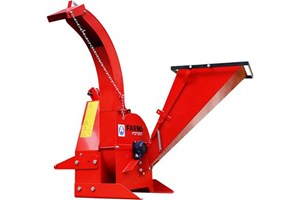 FARMI CH 100 F is designed as a robust and inexpensive disc chipper for landscaping to chip branches and small trees up to a diameter of 100 mm. The FARMI CH 100 F can be mounted onto a small tractor giving a compact chipping machine in gardens, parks, yards and road sides. Two knives and an anvil take care of chipping and feeding. CH 100 F chipper is available as a tractor PTO versions or as a hydraulic driven option.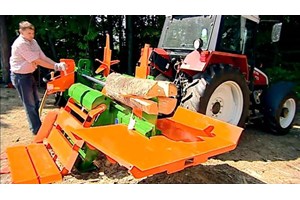 The professional horizontal splitter with longitudinal tractor chassis for mobile applications! Complete Posch Splitter, Processor and Packaging lines sold exclusively through Northeast Implement. Better cutting, splitting machines that are fast and safer, call 607-589-6160 to get yours today!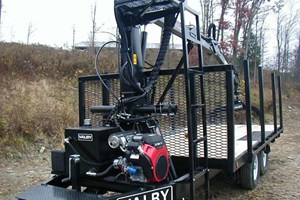 Northeast Implement is your resource for VALBY CUSTOM-BUILT DOT LOG TRAILERS & DUMP TRAILERS are strong, light and maneuverable to help you work fast and stay profitable. They are built for Professionals, but they are affordable enough for Semi-professionals and Landowners. VALBY trailers are loaded with standard features and many available options, so you can design YOUR perfect trailer. Our trailers are constructed using superior-quality design & components, like Dexter single-tandem or dual-tandem axles, heavy-grade structural channel for main beams and cross pieces, fully primed and painted frames to withstand northern winters, and radial tires with 8-hole rims for stability. Call us today to get more information - As Low as Only $36,000 - 607-589-6160