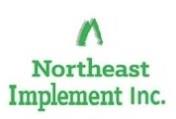 Northeast Implement
888-589-6160
Northeast Implement is the exclusive importer for the complete line of POSCH firewood machinery and the leading distributor of Tractor & Skid Steer Equipment for the Forestry and Light Construction Industries. We market winches, wood chippers, firewood processors, log loaders, forest trailers, custom DOT logging trailers and grapples throughout North America. Our products are designed for mounting on tractors, skid steers, excavators and self-contained trailers.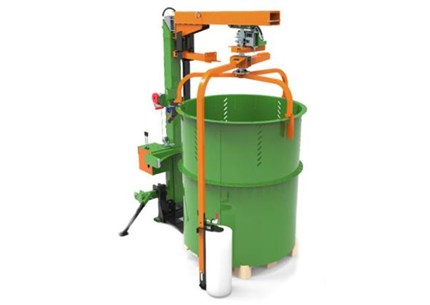 With the PackFix, the billets are collected in the drum and wrapped up in an air-permeable mesh for optimum drying. The PackFix system is a fast and efficient solution for packing up billets and ensures fast drying of the billets produced. It is available in a stationary, mobile or universal version and enables maximum speed for the packing up of billets. the PackFix offers the ideal packing solution. The drum is filled with billets by means of a conveyor belt and it holds a cubic meter of billets (Approximately a face cord-35.3 Cubic Foot). Then the hydraulic swivel arm lifts up the drum, while the billets are wrapped up by the rotary arm. When all billets are wrapped up with the mesh, it is simply cut off and knotted together. This creates sturdy packs that can also be stacked one on top of the other for space-saving storage. The hydraulic tilting table doubles the working speed, and filling and packing up can be carried out at the same time.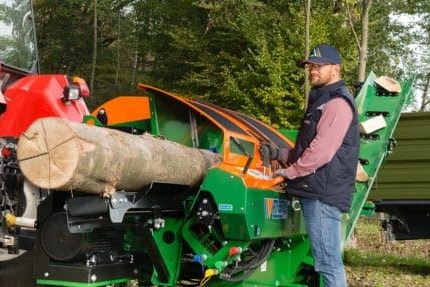 Find the perfect firewood processor for every task They all have in common a great quality and determination for performance that demonstrate pure power, cubic foot by cubic foot. POSCH firewood processor turns whole logs into neat billets and makes firewood processing really profitable. We realize sturdy solutions with a stable value, ranging from mobile all-purpose units to customized firewood factories with an extraordinary hourly output.It is no longer possible to imagine professional firewood production without our powerful variable cut splitters. Stationary or mobile – they adapt perfectly to the requirements for large volumes. With the wide variety of drives and additional solutions, it helps you to make wood processing faster, safer and more efficient. Posch offers a full lineup of processors ranging from 11 inch to 25 inch capacity round wood.
Posch Posch Tilt, Buzz, Automated Saws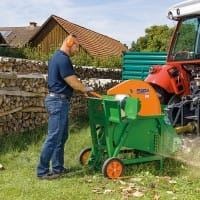 True precision cutting POSCH circular saws and automatic saws make the processing of any volume of firewood easy. The portfolio of high-quality machines ranges from mechanical saws for the smooth cutting of firewood or neat longitudinal cutting to the semi-automatic EasyCut and the fully automatic AutoCut. Direct drive The saw blade is mounted on the engine shaft with direct transmission of the engine power to the saw blade. PTO drive With tractor drive alone or in combination with an E-motor, this variable solution also works independently of the power supply. Petrol engine With V-belt drive via the 4-stroke petrol engine, this multi-purpose solution can be used everywhere independently of the power supply. Safe cutting with innovative concept The operation of EasyCut provides a considerable advantage in terms of speed. The patented, undulated stop lets you adjust the desired billet length without tools in just a few steps. For subsequent operation, the timber to be cut is put in the ergonomic timber trough and automatically glides up to the stop. So you can process more firewood alone or with another person. Stress-free loading and automatic cutting The fully automatic firewood saw cuts billets and round timber with an impressive speed. At intervals of 2.4 seconds, the fully automatic timber trough moves and so produces up to 8 cubic metres of billets per hour, with the right cutting length and billet size. Feeding is extremely easy. The fully automatic trough is stopped with the EasyStop. The operator slides the material to be cut in the timber trough that stands still at an ergonomic height. The rest is done by the SmartCut in one work step, and the billets cut the desired length are automatically ejected via the conveyor belt. The revolutionary sawing concept for more power With the AutoCut, an outstanding sawing solution conquers the market with special user-friendliness and an incredible performance advantage. Under ideal cond