Briquetting Systems For Sale
Viewing Page 1 of 1
9 Results Found
STANDARD LISTINGS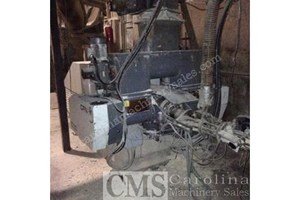 Nice CF Nielson BP5500 Press. The plant shut down in 2014. The machine was run again for a test in 2016 and everything was in good working condition. They have the dies and pistons to make round and octogonal logs. - Briquetting press CF Nielsen BP5500 - Dies to make 3'' round logs and 2½'' octogonal logs - Lignin dosing system - Water pump to add water if material too dry - Home-made automatic speed adjustment with encoder. - Briquette breaker from CF Nielsen at the end of the cooling line - Home-made flying saw with lenght asjustment at the end of the cooling line too with capability to switch from the saw to the breaker. - Can run up to 1200kg (even 1400kg I think) per hour depending on material and briquette shape - Cooling line can be opened to make pucks also. - 575V AC motors - Installed in 2008 - 10,865 hours This unit has less than 400-hours and is ready for immediate removal. 75HP Motor long and Short A5 dies (3) hammers 50' cooling line (1) section of curved cooling line Pucker attachment [Link to Manufacturer Specs](https://www.stilesmachinery.com/assets/files/2y/98-375-00005.pdf) 2006 RUF 440 Briquette Press 440kg/hour depending on material Unit is 6ft x 6 ft and 5 ft high Weight approximately 5 tons Per owner: The machine has less then 2500 hours so no major work has been done to the machine. This is very low hours for this type of machine.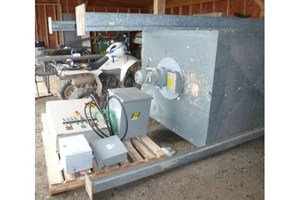 MLS Number 10686858 2013 Spaenex Model 394 Briquette Press 150 - 180 KG per hour 11 Kw Motor 400 V 27.5A All wire, transformer Best suited for sawdust with 15% moisture Purchased in 2013 and used for seven years. Replacing the press is due to a change in material suppliers (new product was too fine and not compatible with the machine Comes with manual written in German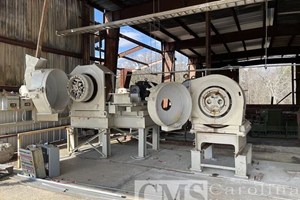 (2) Sprout Waldron Pellet Mills 125 HP Motors Systems were tested - then painted and never put into production. Seller ran wood pellets and pine This plant is available immediately. It will work for wood pellets or organics such as alfalfa. Production is approx 3 tons/hour on wood and 5 tons/hour alfalfa. See photos for complete list of equipment. Also see the spare parts list ($100k+). (4) Richi Pellet Mills with 10 TPH Capacity Each mill has a 220 HP motor Cooler Richi Bagging Line Multiple Richi conveyors and augers available Optional: Extra hoppers, bins, conveyors, fans, blowers, screens, drum dryer, pellet burner Weima TH 1500 Briquette System Hour meter says 6228 Infeed hopper 55 inches wide 57 inches long 38 inches deep - Weima TH1500 Briquetter - 3500 Hours - All new wear parts in press (approx $5000) - Produce approx 1000 lbs.hour - Collection bin to the wrapping station: Approx 5'x14 - Nenotech Wrapper Model 3012 - Total footprint of the operation is approx 20'x20'