Dry Kilns For Sale
Viewing Page 1 of 1
10 Results Found
STANDARD LISTINGS AMERICAN WOOD DRYER Direct-Fired Lumber Kiln - New, still at MFG' place:Now offered at a substantial discount off the original cost and complete with the following main components and features: -- 20' x 54' in size, 39,000 Board Foot (92.03 Cu. Meters) capacity or 62,100 linear feet capacity, Package Type, Front Loading, Dry Kiln Building features: -- Gable Roof. -- R-20 Insulated ALCLAD Aluminum Panels, stainless-lined. -- Fan Deck Grating. -- Motor removal equipment. -- Drystar® Computer Control System, single head zone with (4) Rtds. -- 10 MM BTU/Hr. Natural Gas Fired Furnace. -- Kiln control and furnace Room approx. 20' x 30' x 11' high on lowest side. -- (12) Steel lumber backstops. -- (7) 20 HP Air Circulation Fans. -- (7) SIEMENS Variable Frequency Fan Drives for 20 HP Fans. -- Accu Spray air atomized cold water Spray System with (7) Spray Nozzles. -- Insulated Door mounted on overhead track.The following $-figures show the distribution of funds applied to the original purchase price of nearly ...$650,000: &#9679 Kiln with Gas Fired Furnace: ...$391,310 &#9679 Control System: ...$16,540 &#9679 Furnace Room: ...$33,145 &#9679 Backstops: . ... $ 5,400 &#9679 VFD's: ...$14,500 &#9679 Water Spray: ...$ 5,100 &#9679 Furnace upgrade .. $200,000NOTES: &#9679 The equipment is stored in containers located at at a plant facility in Portland, Oregon. &#9679 Installation by the manufacturer can be acquired directly from AMERICAN at Buyer's option. &#9679 Building shown in photo is representative only, not the one for sale here.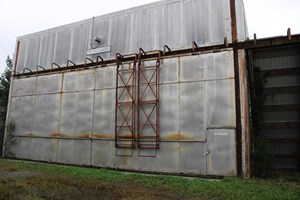 Coe 47' x 26' Package type dry Kiln with Controls, 1989 Hurst gas boiler 150 PSI, 6900# Steam Per Hour S/N 51000-750-3, Condensate Tank & Pumps & Electrical. can Buy as a Package or Seperate the Hurst Boiler. IRVINGTON MOORE Package Type Lumber Dry Kiln;Complete with the following: --60 MBF capacity steam heated lumber dry kiln Building. --Single Sliding Door. --New in early 70's but refurbished in 1995 with new insulation, new fans etc. --Inside/outside dimensions: 39'x30'/40'x32'. Kiln-Direct Pallet Heat Treating Kiln Set up for Propane or natural Gas Fired. 12'6 x 42'x 9'. Dries 1 Truck load 48" x 48" Pallet one step up from Standard. NYLE CF3LS-40-0-15 Lumber Dry Kiln with a total capacity of 122,000 board feet;The system includes the following major components and features: -- (2) KATRES AFK 61,000 BD. Ft. aluminum link chambers, 45' wide X 80' long X 26' high. -- (8) 0.5 HP Bi-directional computer controlled circulation fans. -- (2) 10 HP BECKETT blowers. -- (2) NYLE HT 108 dehumidification drying systems with (2) 40 HP compressors each. -- (1) 40 BHP BOILERSMITH oil fired boiler and BOILERSMITH receiver pump. NOTE: These are forklift loaded kilns and price includes loading for transport. Buyer responsible for freight. These units are disassembled and in storage.