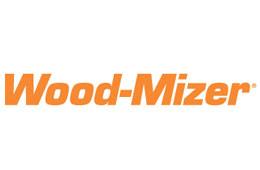 Wood-Mizer Products, Inc.
800-553-0182
Since 1982, Wood-Mizer has become the world's largest manufacturer of portable band sawmills with tens of thousands of bandmills sold. Today, Wood-Mizer offers portable & industrial sawmills, resaws, edgers, kilns, log splitters, bandsaw blades and blade maintenance equipment for woodworking hobbyists and forestry professionals all over the world.
Edger-Board
Viewing Page 1 of 1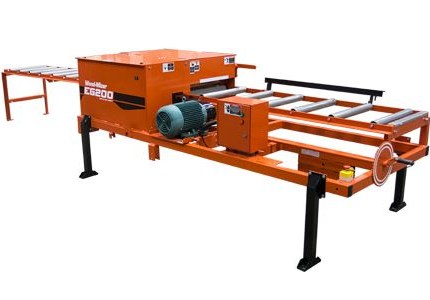 The value of lumber with clean edges can often exceed the value of rough-cut boards. In one pass, Wood-Mizer's EG200 Twin Blade Board Edger takes boards fresh off the mill and turns them into clean, square edged lumber. This edger is easy to use, with one fixed blade and one moveable blade that adjusts with a manual dial. Easily select the precise size of lumber you need, from 3" to 15" wide. Lower the perimeter fence when you need to edge only one side of a board. Add a trailer package for easy transporting.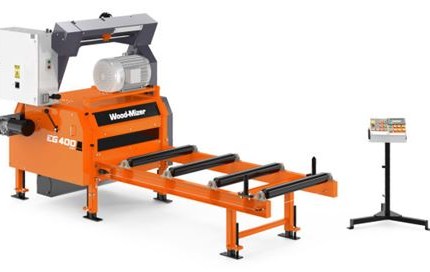 The EG400 is a rugged board edger that is at home behind industrial headrigs or other applications requiring a fast, accurate heavy-duty board edger. Capable of processing material up to 36" wide and 4" thick, it is equipped with an automatic variable speed feed that is set by the thickness of the piece being edged. The 30HP is powerful enough to rip through thick hardwoods, but not big enough to break your energy budget. Two 16" inserted carbide teeth blades are mounted on a splined shaft and move in and out from center, allowing the use of an optional board tailer. Two lasers are included as standard equipment on the EG400, and it is equipped with anti-kickback protection and other safety features including a perimeter e-stop cable and electrically interlocked safety covers.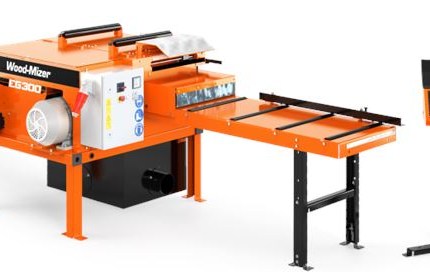 The EG300 is engineered as a stand alone twin blade or multrip board edger or integrated into a larger operation depending on your business needs. The wide infeed and powerful electric motor have plenty of power to handle most boards. The EG300 comes standard with Setworks and two blades (one moveable). Up to three additional blades can be added for full function multirip capability. Using its multi-rip capabilities, you can easily preset up to three widths allowing the operator to edge slabs for maximum recovery. Increase your operation's productivity with the EG300 multirip board edger.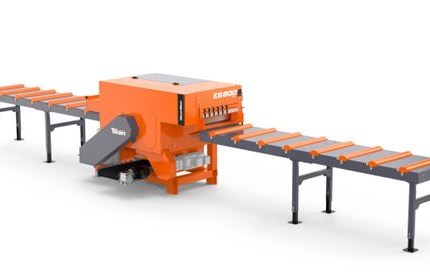 The EG800 Manual Board Edger is designed to offer a twofold solution to small and medium-sized sawmills. This robust machine edges material up to 1.575 in (40mm) thick at high speeds, making it the ideal companion to the TITAN Resaws. It can also be run at slower feed speeds to rip material up to 4-1/4 in (107mm) thick, making it an affordable alternative to a Gangsaw. Consequently, this TITAN product is a truly versatile machine. This machine's primary function is to edge boards received from a resaw or a QVS (quad vertical saw). The wide arbor can be packed with multiple blades. By aligning the incoming board accordingly, it is possible to achieve a multitude of product sizes, simply and affordably. Whichever its intended use, this versatile machine is incredibly robust and easy to maintain. An affordable, hardworking solution for any mill!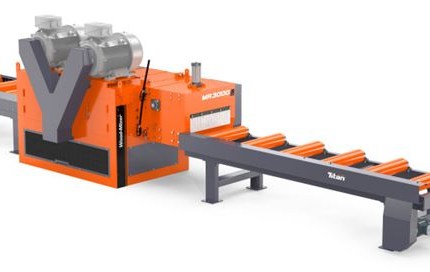 Our multirips are ideal workhorse machines, producing the majority of finished product in most of our sawmills. The simplicity of our design, coupled with solid construction and plenty of power, produce high throughput and top quality results. Multirips are capable of making multiple high tolerance cuts in a single pass. Proper alignment of the cant going into the Multirip produces excellent throughput and recovery. Optical sensors detect the presence of material, activating pneumatically assisted driven hold-downs to apply pressure down onto the cant, and guiding the timber accurately through the cut. The high accuracy on board thickness along with the excellent cutting finish achieved by these circular saws result in improved recovery savings further down the line in the dry-milling/ finishing process. This beast of a machine is a must-have in any high volume sawmilling operation.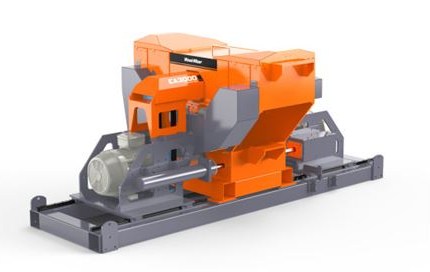 The TITAN Optimizing Edger uses optical scanning technology to achieve high precision and low waste edging of boards. The entire edging process is automated. First, each board is scanned. The profile of each board is then analysed by a computer, which decides on the best product to maximize recovery. Decisions are based on both volume recovery and product value. After scanning, the boards pass through an alignment station and then are sawn. The EA1000/EA3000 is capable of handling up to 25 boards per minute and is the ideal machine to edge boards coming from the TITAN Resaw. Electric servo sizing system achieves any width of cut without complication. Parallel PLC / computer control systems allow the machine to be switched over to manual mode with a single button. Online support allows our technicians to dial into your machine to troubleshoot it remotely. Overall, the TITAN Optimizing Edger is a simple, robust and automated solution to your edging needs.