Truck Dumpers For Sale
Viewing Page 1 of 1
6 Results Found
STANDARD LISTINGS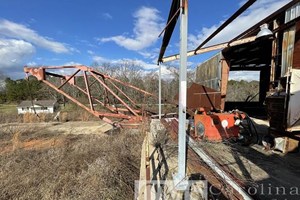 Carolina Machinery Sales, Inc

704-288-1904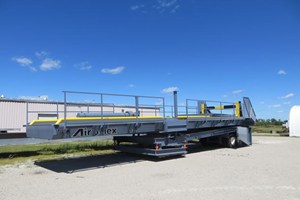 NEW Airoflex Portable Trailer Tipper Truck Dumper Airoflex manufactured a fully portable trailer tipper in late 2021 and it is ready to ship. The tipper has a 10' x 45' platform, 45-ton lifting capacity, 63° tilt, and a 3 minute up-cycle time. Engineered with a rugged design for simple off-highway movement, this tipper can readily be prepped for over-the-road transport, and no foundation is required. The portable tipper can tackle the most challenging bulk material handling applications. It features walkways and handrails on both sides of the platform, two (2) HYCO, 4-stage cylinders, ramp with walkway and handrails, fixed backstop, surface preparation to SSPC-SP6, rust inhibitive primer, and finished with industrial enamel. Choose from either a diesel HPU or an electric, which are also in stock and ready to ship. Muscatine, IA 563-264-8066 Call for Price

Airoflex Equipment

563-264-8066 AIROFLEX Full Truck and Trailer Drive-Thru Dumper;Complete with the following features: --85 Ft. x 10 Ft. Deck. --63 Degree Tilt for chips, shavings etc. --70 Ton Capacity. --Hydraulic Operated Bin Opening. --Hydraulic Power Pack. --Used for only 1½ months.Don't wait for new when this is available NOW !ALSO AVAILABLE TO PROVIDE A COMPLETE SYSTEM: --AIROFLEX 131 Yard Capacity Receiving Bin. &#9679 Year 2014 &#9679 48' x 12' - 7,000 Cu FT. &#9679 (9) 14" Chains. &#9679 40 HP Drive Motor. &#9679 New Replacement Cost: $300,000 CND --CONTINENTAL Drag Chain discharge Conveyor. &#9679 To take-away from Receiving Bin. &#9679 Year 2014 &#9679 70' x 52" &#9679 10 HP Drive. &#9679 Used for only 1½ months. &#9679 New Replacement Cost: $122,500 CND --INTERSYSTEM Inclined Belt Conveyor. &#9679 120' x 48" &#9679 25 HP Drive. &#9679 Used for only 1½ months. &#9679 New Replacement Cost: $210,000 CND --INTERSYSTEM Overhead Belt Conveyor. &#9679 133' X 48" &#9679 75 HP Drive. &#9679 Used for only 1½ months. &#9679 New Replacement Cost: $595,000 CND PEERLESS trailer dumper with 50 ft deck. -- Hydraulic power unit. -- Includes outfeed conveyor for chip or other product removal. -- Ready to load... Save removal costs. -- This machine has the feature of a long deck although in pieces but complete. RADER Trailer Dumper with 30 Ft. Tipping Deck and comes with the following components and features: -- This unit was installed at the current location in approximately 1971 and is reportedly in great working order and condition. -- Previously used for Dumping Wood Chip Trailers. -- Professional rigging and loading is available. Decks are often extended for longer (53 Ft.) trailers. Big Truck Dump with cylinders & Hydraulic Power Unit. 57'10" Long x 118" Wide x 57" Tall Bumper.

LPS Equipment & Acquisition Co.

731-986-4351