Drum Dryers For Sale
Viewing Page 1 of 1
9 Results Found
STANDARD LISTINGS Image shown is stock - photos coming Complete stainless steel drying system Dual 13' x 60' triple-pass rotary drum dryers includes: Trunion, drives with motors Dual 70 million btu natural gas burners, max thermal output of 42.200.000 kj/h, discharge cyclone, multi-clones, fans with motors, stack, all relating ducting and steel structure. These dryers are fired with natural gas or propane. Main cyclone at discharge of dryer has 3.66m diameter, secondary multicyclones (8/dryer) are 1.07m diameter each, stack is 37m above grade, Volumetric airflow rated 30.68 cubicmeter/second. Equipment plant drawing, manuals and blueprints available when system is purchased. This system was used at an old particle board facility. CMS is unsure if it is a Heil or similar brand. Heil 10x40 Triple Pass Dryer 50 MM BTU Natural Gas Burner 200 HP Cyclone and associated piping Controls and all electronics More photos coming! 10x40 Heil Single Pass Drum 50 MM BTU Natural Gas Burner Cyclone (needs new motor) with all piping and controls This facility has closed and the system is ready for immediate removal. Screen Surge Bin 12'x60' Triple Pass Dryer Webb Burner BM&M Screen This unit is no longer under power. All machinery is still stored indoors and available for inspection . Contact CMS for more information. This system was purchased brand new and never installed. The plan has changed at this facility and they will not use either system. There are two complete systems available. - 8'x32' drum - Pellet Burner - Cyclone - Intake Fans - Hammermill - Model SFSP6680 Notes from the MFG: - The evaporation capacity of your dryer is 5-6T/H - The BTU on the pellet burner is 3.6 million kcal. Running Engineering 10x40 Dingle Pass Drum Dryer System was used under 800 hours Includes: Trunion and drum drive (no motor) - Complete with trunnions, bases, gearbox/base (no motor), insulation and endplates. - This is a hi-performance design with full panel flighting from Ronning Engineering originally set up as a cooling drum. The heat exchange surface is greatly increased with the addition of the panel flight for which other standard single pass coolers/ dryers would need to be much larger to compete with. - Originally, this was set up has a cooling drum, but by simply reversing the air flow would make it an equally hi performance single pass dryer. This drum was manufactured to flow up 50% more air depending on products ran or would run with much lower outlet temperatures if ran with lower air flows making this much more fuel efficient than a standard single pass. Ready to load on a truck!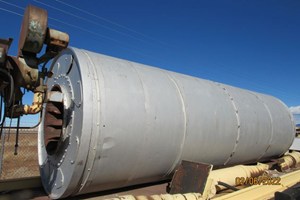 LPS Equipment & Acquisition Co.

731-986-4351