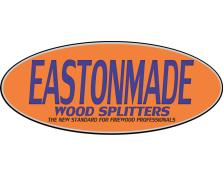 Eastonmade Wood Splitters
613-812-3213
Eastonmade wood splitters are built in Canada from the best materials for the firewood producer that believes quality should always come first. Our wood splitters are all hand crafted in Perth, Ontario located 40 minutes west of the nations capital. All of our wood splitters come with a 1 year limited warranty on parts and a 3 year engine warranty right from the manufacturer.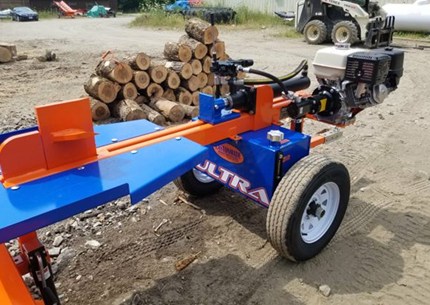 If your looking for all out performance with an affordable price tag than this machine has your name all over it. The Eastonmade Ultra features a mind blowing 4 second cycle time. You will not find a faster hydraulic splitter on the market. This machine is built to compete with the rack an pinion splitters on the market, but with a lot less maintenance. There are no bearings, springs, gears, or belts to maintain. The wedge stands 12" tall to bust through the large pieces. A taller push block means you are able to double stack you halves and turn them into quarters in one pass. This is the best happy median available on the market to get kinetic performance with the power of a hydraulic splitter.
The 5-11 is a great entry level commercial splitter for the new firewood business or the serious homeowner. It features Eastonmade's exclusive log cradle design, 13" highway rated tires, 6.5 hp GX series Honda engine, 25 gallon Hydraulic tank, replaceable wear components and a hydraulically adjustable 4 way wedge. This machine is the heaviest built and nicest machine to run on the market at this price point, hands down.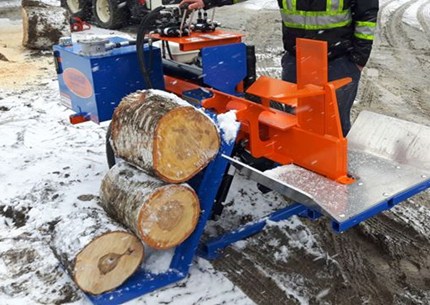 The 9-16 is designed for the individual that wants a little more out of a wood splitter. It has a 60% increase in production over the 5-11 do to its faster cycle time and the fact that it comes standard with a hydraulically adjustable 4 way wedge. It features the same unique and user friendly Eastonmade designs as the rest of the Eastonmade family of wood splitters; 9hp gx series Honda engine, oversized 25 gallon hydraulic tank with suction and return filters, 13" high speed tires and our exclusive log cradle design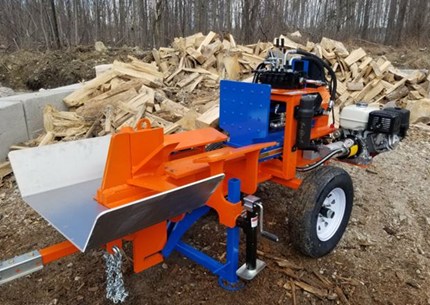 The 12-22 is the mid sized performance model of the Ea?stonmade family of wood splitters. It boast a blistering fast 4.9 second end to end cycle time. It's features a legendary 12 hp Honda GX390 engine that's coupled to a monster 22 GPM 2 stage pump. It comes standard with auto cycle, log lift and table grate. It also has those legendary features that make an Eastonmade wood splitter; 12hp gx series Honda engine, oversized 25 gallon hydraulic tank with suction and return filters, and our exclusive log cradle design.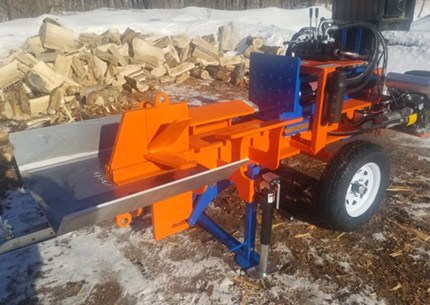 If your looking for the most powerful performance splitter on the market than you have just found it. The Eastonmade 22-28 will handle anything you can throw at it. It offers a 5.5 second cycle time with 5" splitting cylinder and Eastonmade's legendary wedge design. This beast will split wood as fast as you can bring it to it. It comes standard with a log lift, 6 way wedge, catch pan, and full autocycle. It also uses Eastonmade's exclusive Galtech hydraulic components which have been proven to outlast the brands the other guys use 10:1!!! It features a 22hp GX series Honda engine with electric start, 28 GPM high pressure pump and a splitter cylinder with a massive 4.5" rod
Eastonmade SS524 Skid Steer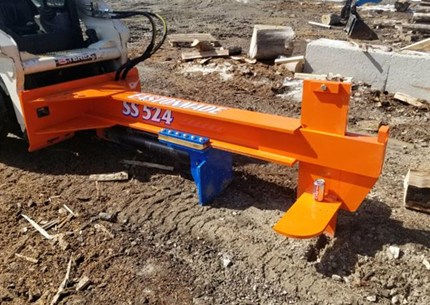 The Eastonmade SS524 is the meanest skid steer splitter you're going to find in the industry. This is specifically designed for tree services and people that deal with oversized gnarly wood all of the time. These compliment any firewood operation as it takes a typical waste product that is almost unmanageable and moves and breaks them down for further processing.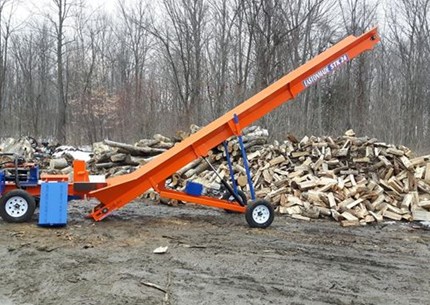 The Eastonmade family of firewood conveyors are at the top of the market. They are all build with heavy 1/8" plate and are fully hydraulic. That's right, no belts, no chains, no silly winches, no pumping a jack, they're just build heavy and built simple. They easily compete with the best brands in the business. The chain drive is made from heavy duty 81X lumber chain the same as you would see on a live deck of a large processor or sawmill. The chain rides on its rollers the whole length of the conveyor to reduce wear and friction. They feature a 5hp Honda GX series engine that operates just above idle. You can expect to burn a little less than a gallon of fuel for a full 10 hour day. The hydraulic controls operate both the chain and the lift cylinder. They feature a pair of locking legs to relieve the stress on the cylinder seals when sitting for long periods. These are top quality conveyors built for the guy that wants to buy a quality piece of equipment and buy it once.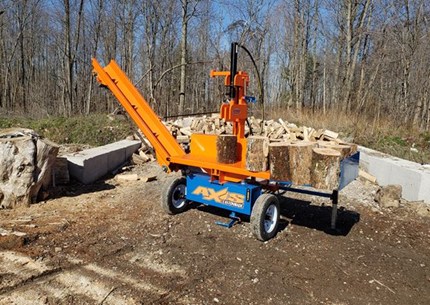 The Eastonmade AXIS fills that void for a cost effective vertical splitter. Vertical splitter have commonly been regarded as the solution for very precise splits. This machine would be a great fit for anyone looking to do mobile work do to its optional 8' attached conveyor and torsion axle.