Boilers For Sale
Viewing Page 1 of 1
11 Results Found
STANDARD LISTINGS BARKER Boiler and Fuel System built & tested in 2011 as a pilot unit. Successful testing has been completed. This surplus equipment includes the following main features: -- Combustion Temp Capability- 2,000 deg.F.; Steam Flow 24,000 lbs/hr saturated; Steam Pressure 1,500 PSI @ 600 deg. F. -- Fuel Feed rate - 3,000 Lbs/hr at 1/4" biomass (5% moisture) -- Heat Input - 7,500 btu/Lbs HHV @ 22 mmbtu/hr. -- All equipment has less than 2,500 actual operating hours since installation.EQUIPMENT MAJOR COMPONENTS: Combustor, Cyclonic combustion technology, Refractory lined Heat Recovery. Steam Generator. Rotary Drum Dryer for Fuel drying - capable of 30% moisture reduction (at the above combustion parameters) and 1.5 tons per hour (installed as used equipment).BALANCE OF PLANT FUEL FEED SYSTEM: Live-bottom bin, Bunker, Feed conveyors, Wood hog, Vibrating screen, Drag and screw conveyors. Boiler water system - feed pump,water and steam piping Emissions Control: All required baghouses (SJVUAPCD) California permitted. -- Now REDUCED PRICE from $1.5 million !!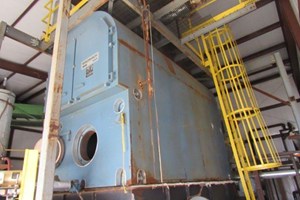 Wood-Fired BOILERSMITH Boiler fitted with CHALLENGER Cumbustion Unit;Complete with the following major components and features: -- 250 PSIG design pressure. -- BOILERSMITH Boiler Model HRT2H8-2600SF-XW-250 with 2600 Sq. Ft. boiler surface area. -- Fuel can vary in moisture up to 50%. (Boiler HP is reduced as moisture increases.) -- Fuel feed Auger with Variable Frequency Drive. -- Fire-Tube Boiler with integrated Air Blast Tube Cleaning. -- De-Ash Augers. -- All Electrical Controls and starters. -- All mechanical/ electircal engineer's drawings.NOTES: &#9679 Removed and ready to load onto two trucks, 38,000 and 42,000 pounds. &#9679 15,000 to 16,000 pounds per hour steam if burning wood pellets. &#9679 No building included but same building can be purchased from STAR.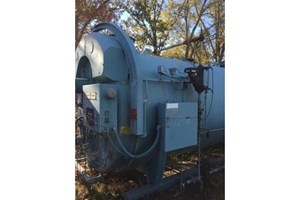 CB Package Boiler Natural Gas, CBI 700-300-15, Max Pressure 15st PSI, Input 12.600.000 BTU/HR Serial# OL 094585, 460 3Phase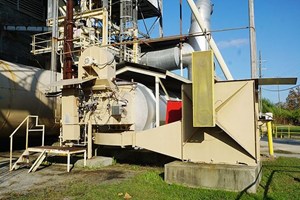 LPS Equipment & Acquisition Co.

731-986-4351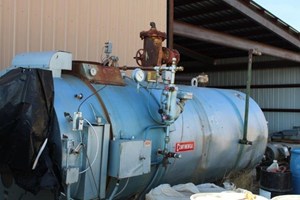 Plant Boiler System for up to 60,000 pounds of steam production per hour (1790 HP) with the following features and main components: -- (2) ENGLISH BOILER AND TUBE, INC. Boilers each rated for 20,700 pounds of steam per hour each. However, manufacturer specified they can be operated at 30,000 pounds per hour with dry wood or bark fuel (12 percent moisture). -- 250 PSI operating pressure ratings on each Boiler. -- VFD Drives on all main Motors. (The plant uses a maximum 75 HP for each boiler.) -- Electrical Controls. -- (1) Boiler has an Oil Burner for operating optionally on oil if sawdust or wood chips is not available. -- Chemical Water Conditioning System and Pumping System. -- De-aerator and Condensate Tank. -- Multi-clones for particle emissions reduction and abatement. -- (2) Fuel Storage Silos (25'x40' & 20'x38') with LAIDIG Model 243 Track-Driven Unloaders. -- Fuel Transfer Conveyors. -- The Silos also are included at the price shown and are available individually. See our listings DB-010162 and DB-010163 for details and individual pricing. -- Boilers can be purchased individually or as a pair. -- Professional removal and installation services are available.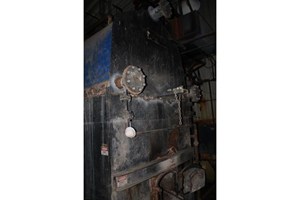 1989 Hurst Wood Waste Fire Boiler System MDL 710 W/Water Tank Condensate Tank, Infeed Auger, Ash Removal Unit, Controls, 150 PSI, Max WP PSI 975, 5, 175 lbs Steam Per HR & S/N HYB-150-2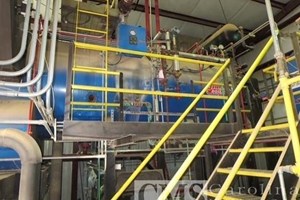 Three systems available. Pricing will include removal and loading onto trucks. - Hurst Hybrid 600 HP 150 PSI - Hurst Hybrid 200 HP 150 PSI - Hurst Hybrid 300 HP 150 PSI Each system should include (email for specifics): Hurst Hybrid Vessel Hurst Boild Furnace with cast grates Hurst underfeed stoker system Hurt Metering conveyor system Overfire air combustion fan Underfire air combustion fan Hurst combustion air preheater Access platforms with ladders Boiler system control panel (PLC, frequency drives, UDC, control for automatic operation)

Carolina Machinery Sales, Inc

704-288-1904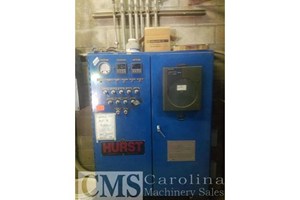 Used 1995 Hurst Hybrid Boiler system 200 HP 150 PSI 1– Hurst Hybrid Boiler 200 HP 150 PSI Boiler 1 - Hurst Boiler 200 HP Woodfired Furnace for Boiler vessel with cast iron grate system. 1 – Deaerator Tank 1 – Blowdown Separator for fuel storage equipment 1 – 8" Underfeed stoker System 1 – 10" Metering Bin Screw Conveyor with Hopper 1- 20HP Over fire air combustion fan 1- 15HP Under fire air combustion fan 1- Hurst multi-cyclone collectors 1- Induced draft fan

Carolina Machinery Sales, Inc

704-288-1904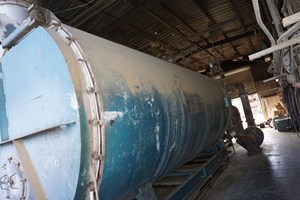 700 HP/150 PSI Superior Wood Fired Boiler (Rebuilt in 2018) Also included: All Boiler Controls in Room