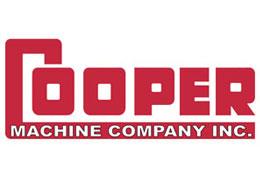 Cooper Machine Company, Inc.
478-252-5885
A leader in custom sawmill machinery, Cooper Machine utilizes proven technology with the latest innovations to design and manufacture quality sawmill equipment. Cooper Machine is best known for our Scraggs, but we also offer a full line of sawmill equipment including Edgers (with or without optimization), Merchandising Systems, Sorting Systems, MIT Resaws and Carriages, Cooperage Equipment and Prodesa Pellet Mills.
Cooper Machine Stave Horizontal Resaw 1000 model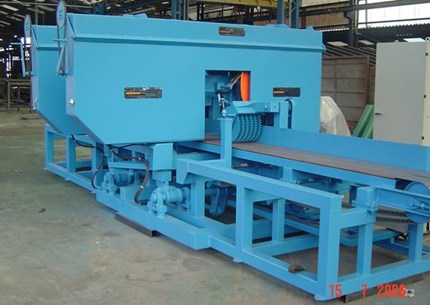 The 1000 model horizontal resaw works well with cants, slabs and staves. For staves, after the bot goes through the Halving Saw, it continues into a thin kerf Vertical Quartering Saw and then. Further downstream, a Horizontal Resaw will cut a stave blank that will be separated and the remaining quarter will continue on the runaround. This machine has heads mounted on a reinforced frame, 40" (1000mm) diameter fabricated solid steel wheels for 2 or 4" bands. It has one 60hp electrical motor on each head. A variable speed drive for principle motor is included along with a polychain belt drive. Built heavier than other resaws on the market for long usage life and low maintenance.
Cooper Machine MIT Charring Machine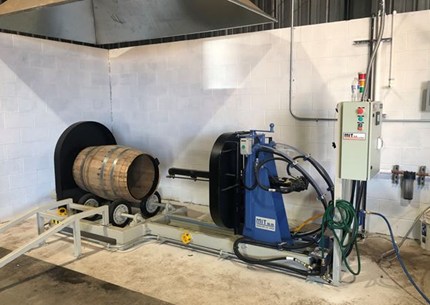 Manual charring machine for barrels from 53 gallons up to 132 gallons. Electronic ignition pilot with safety valve. Manual carriage with gas burner approximately 40". The barrel is manually loaded onto rollers. The barrel is turned during the charring session using four drive wheels and has a VDF to determine the speed of the turning. The ignition switch moves in and out. When it is ready to char, it moves in closer to the barrel and then chars based on the program you determined. It does need the metal piece to protect the croze. MIT recommends keeping the head on one end while charring. You can use either natural gas or propane, we just needs to know which you prefer.The charring timing is programmable. The intensity of the gas and oxygen of the flame inside the barrel is manually regulated. Will process approximately 5-8 barrels per hour.
Cooper Machine MIT Barrel Shaper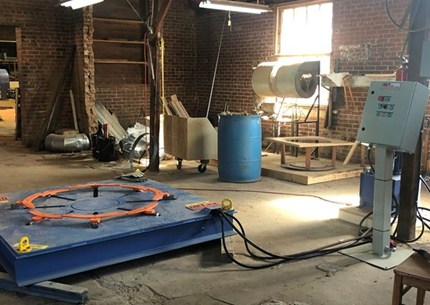 The Barrel Shaper is for barrels 53 gallons up to 132 gallons. Maximum diameter of 47 1/2" (1200 mm) tightening ring and a minimum diameter of 21 5/8" (550 mm) tightening ring. Comes with 8 clamps using a hydro-mechanical drive, two hydraulic cylinders and can be manual or automatic cycle using a PLC. Required power is 2.2 kW. Comes with full electrical panel and power unit. We suggest cutting a hole in the concrete to set the barrel shaper floor level for easier loading and unloading.
Cooper Machine Tandem Scragg Saw with Inline Chop Saw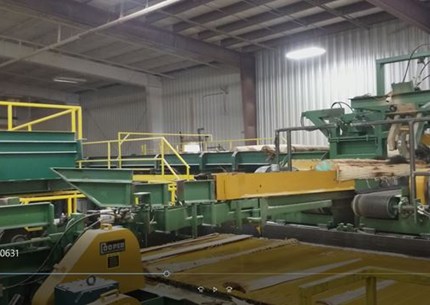 Cooper Tandem Scragg is great for smaller diameter logs when you want production without a lot of employees. The Tandem Scragg is comprised of two saws, 48 inch Saw 1 and 36 inch Saw 2 (custom configurations available). Thinnest material/thickest material saw 1 can cut is 3" – 12". Ultrasonic sensors for diameter reading of logs for first saw autoset with manual operator override, auto band saw set to make four sided cants. Comes with a Generation 3 Precision Chain Feed using 140 roller chain and hardened t-rail track, 20hp variable speed electric chain drive with VFD climate controlled cab, and four camera color monitoring system. Saw 2 has a minimum 3" saw set. Saw two comes with two 75hp motors and polychain belt drives, 2" induction hardened chrome shafts and linear slide bearings, and temposonic cylinders with sensors and helper cylinders for husk frame autoset (and manual override). The outfeed consists of 6" cant/slab separation wings behind saw, four sets of spring loaded hold-on wings and an 8" H-beam common frame. This machine can come in a system and include an inline infeed with chop saw, slat tables and an Outfeed Rollcase. For more information or to design the system to fit your needs, give us a call.
Cooper Machine Heavy Duty Debarker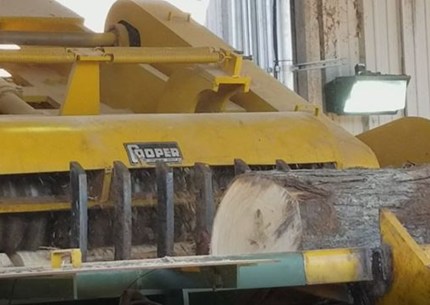 Now introducing the Cooper Stave Debarker. Debark logs 18" to 46" long and 8" to 34" in diamter. Comes with infeed plate slides, 48" long Stringer Bark King Debarker Head with 2 15/16" shaft and bearings, 125hp 1200RPM drive motor and drive, depth gauge plates in head, eyes for opening and closing log holding arm position, 1" AR log cage arm assembly with 3 7/16" Can Am pivot shaft bearings, 6"@20 beam, Six 21"OD, 1" AR Bull Wheels for Log Rotating and Removal. Debarked logs are dropped out below. You can open the cage and pass logs through if hog is down. Debarker will fit in the same spot as existing debarker. Comes with VFD and Soft Starter, Control Panel with Computer/PLC and Software to Auto Run Debarker. Cut down on your labor! One person can run the Stave Cutup System and Debarker. If you have short pallet logs you want debarked, this machine can handle that too!
Cooper Machine MIT 1275 Center Split Resaw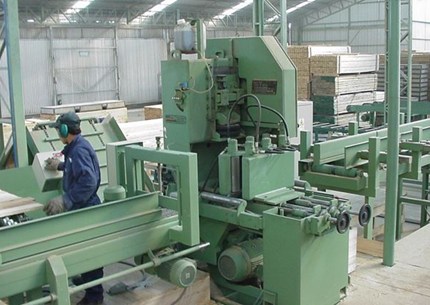 The SCI-1275 is MIT's largest center split resaw. It comes with 55" diameter fabricated solid steel wheels for either 6 or 8" bands. Variable speed hydraulics feed from 0 to 227 feet per minute. Fixed pressure guides. Electric motor for quick change of saw. High tension band with pneumatic systems. Air strain system with air bags. Includes hydraulic tank, pump, electrical motor, valves etc. With 75hp 50/60 htz electric motor and complete electrical panels. This machine can either center split or offset cut. Now includes MIT PLC and touch screen.
Cooper Machine MIT Carousel Block Cutter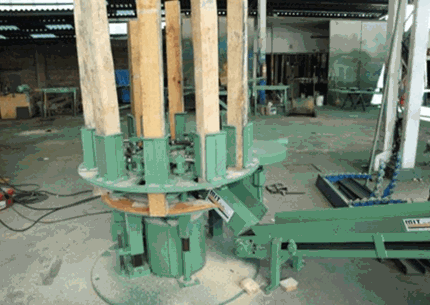 MIT Carousel Block Cutter has a carousel with ten clamping stations, mechanical press and a manual regulation cutting head with digital measure. Will process up to a 5.5" cant. Has a minimum height cut of @" and maximum of 28". Comes with a special flat WEG motor 7.5hp 60htz. Optional belt conveyor for block output. Uses a 19 11/18" saw blade (not included). Comes with power and control panel. Weighs approximately 4500lbs. This is a great machine to cut up to 90 blocks per minute!
Cooper Machine Vertical Saw Arbor (VSA)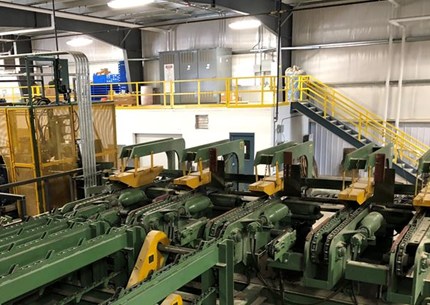 If you're looking for another option to recover your slabs then a VSA is a great option. When adding vertical edgers to your Overhead or Sharp Chain machines, put this machine in to process 3 1/2" up to 5 1/2" wide material. Options to cut up to 6" thick slabs. Lengths can vary depending on the length of your slabs. Comes with infeed with two double sharp top chains and two sets of pushover feed rollers over the #80 roller chain. The VSA can have a single or double arbor that is on linear slides for easy maintenance. Also includes outfeed with safety cage and an optional hand stacking belt option. Comes with control panel with PLC to run the system. Also comes with starters and VFDs included for the whole package. Give us a call to find the best option for your application. Feed speeds of up to 350fpm. This machine works great for anyone not wanting to deal with band saws.
Cooper Machine Multi Saw Pallet Trimmer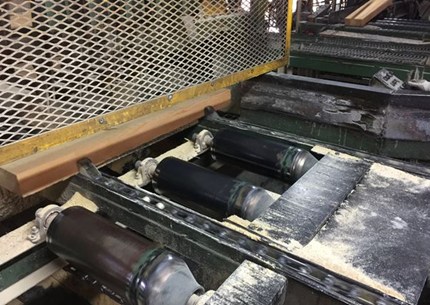 Trimmer can be set up from two to give heads. Can by automatically fed or manually fed. 20" saws for up to 7" tall cants. Comes with guard cages, dust guard, and trim block and sawdust waste belt built into the frame. For more information or a quote, please give us a call. Trimmers also available for three sided flitches and boards.
Cooper Machine Flex Log/Pole Merchandising and Sorting System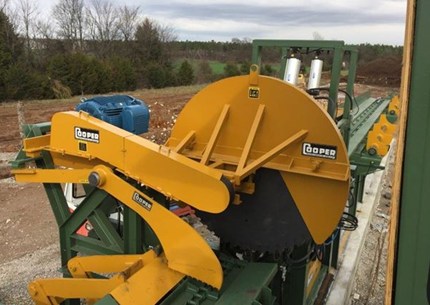 The Cooper Flex-Log Merchandising and Sorting System is a great option to maximize your operation. Pre-sort logs or poles by length and/or diameter to increase your mill throughput. Or sort logs by length and diameter for export logs. This is also a great solution when you have one Debarker feeding multiple mills. Video coming soon!
Cooper Machine MIT 1400 Over/Under Resaw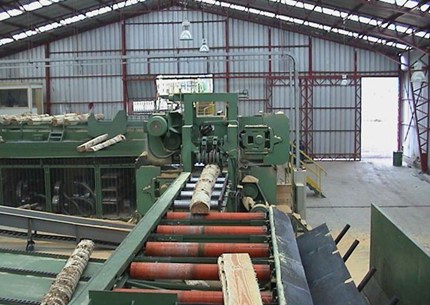 The MIT 1400 Horizontal Resaw comes with either 8 or 10" bands. This machine can be used over/under with two independent heads on top of each other or can also come in tandem. Comes with 100hp motors and a pneumatic tension system with air bag. It has a fixed pressure guide system. Comes with MIT PLC controls.
Cooper Machine Optimized Edger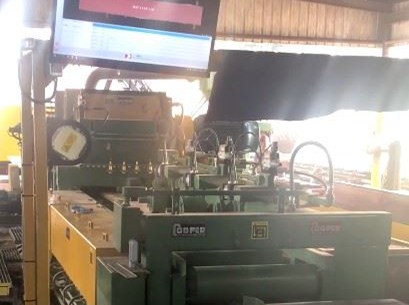 Cooper Machine is now offering Optimized Edgers. We are able to provide a linear, transverse or for really tight spaces, we can do a combination of the two while cutting up to 15 boards per minute. Comes with either a two or three saw solution.We are able to feed from one or both sides. We are using A&E's Iris and controls package for optimization. Which uses Joe-Scan 25MX scanners in a triangulated position and is one of the fastest and most accurate scanners on the market. This system has an operating system that is user friendly. We can scan from just the top or from the top and bottom. Currently available for logs from 6' up to 20'. Give us a call for more details and to find out what will work best for your mill.