Laser Lights For Sale
Viewing Page 1 of 1
7 Results Found
STANDARD LISTINGS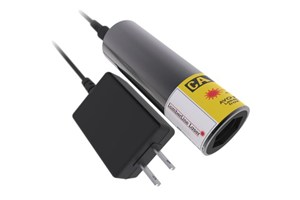 The R series laser is the workhorse of our line. Low cost and well suited to many applications, the standard configuration includes a remote style AC PSU (PT#SA-115) to supply the necessary 5VDC to the unit. As always, the unit fits all of our mounting hardware and movable systems. Can also be purchased in the M12 configuration: for customers that are supplying their own 3-9VDC power. Ideal Applications: Board Edgers, Chop Saws, Part Alignment Fixtures, and Industrial Automation!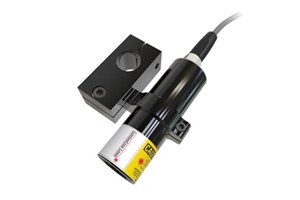 The LV series is specifically designed for "Low Voltage" applications that provide their own power supply. This unit features a wide spread switching power converter for applications that will accept both AC as well as DC power. As designed it has inherent reverse polarity, and surge protection, and features the industry standard M12 connector as standard. Great for control level industrial applications that require a hardwired connection. Ideal for Portable Sawmills, Bridge Saws, Industrial Automation, Control Level Power Installations, and much more! For complete specs and information, give us a call or visit our website!

The SA-008 is a robust bracket for any mounting application that is fixed. It can be easily mounted to anything from wood beams, to steel, utilizing the mounting base that is included. The bracket is made from machined steel and aluminum here in the USA.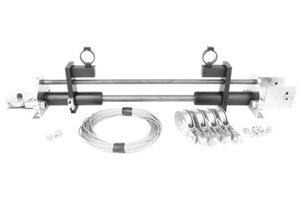 The SA-001 unison shift assembly is what is often referred to as "equidistant". When one saw moves, the opposite saw moves with it, either apart, or together. Mounting Bolts Spacing: End plates, 2 ea 5/16? thru-bolts, 2.750? spacing End plate hole distance, same as ordered shaft length Lengths Available: 24? up to 72? Standard length 48? unless otherwise requested Lengths over 48? will incur additional per foot charges Included Installation Parts: 4 pcs Swivel block (routing) pullies 4- 5/16 x 1.5? mounting bolts with washers and nuts 2 pcs cable clamps 1/8? ac 50' ac cable You can also add an SA-009 stationary bracket to allow for a stationary saw. Unison Shift Assembly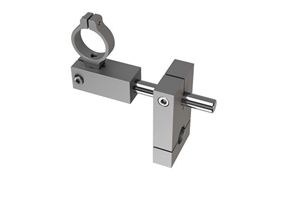 The SA-009 stationary bracket, also known as the "shift" bracket, is designed to clamp onto a shaft. It was designed primarily to attach to our shifting assemblies, but works very well in many other cases. Mounting Configuration: Clamping hole bored for .750? dia. shaft Can be used with our Shift Assemblies, SA-001 and SA-002 Sawmill Exchange

713-729-6455 Abneyco Equipment LLC

706-590-3624