Slab Edgers For Sale
Viewing Page 1 of 1
5 Results Found
STANDARD LISTINGS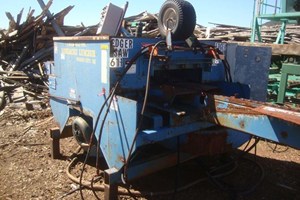 Brewer Slab Edger Twin Blade Slab Edger, 20' Single Strand Throughfeed w/Approx. Twin 15hp Drives, Push Button Control

LPS Equipment & Acquisition Co.

731-986-4351 FastLine Slab Edger. 25hp motor on saws. 8" thick capacity. 5hp motor on Hydraulic feed. #00782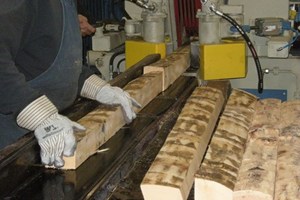 MUST BE ORDERED FROM FACTORY. VERTICAL ARBOR SLAB RECOVERY GANGS are designed to process 3 sided slabs into pallet boards. Ten (10) vertical, interior feed rolls are standard. Variable speed feed system up to 175 FPM. 2" automatic cant variance allows both 3 1/2" and 5 1/2" wide cants to be run back to back with no operator involvement or machine adjustments. Machine utilizes one bottom "clean-up" saw to eliminate irregular shaped pieces assuring flat, square pallet boards. 30" to 60" lengths. Can be partnered with a slab edger and trimmer to recover boards with NO operators. PRICES RANGE FROM $150,000 to 195,000 depending on the model and options.

MACHINERY INSTALLATION CO., INC. (M.I.C.I.)

336-269-2284 Pendu Gang Edger Model VEH 6-48 Heavy Duty Board and Gang Edger Capacity: 3/4" - 6-1/2" Depth 72" Min board length 3" Min board width - 44" max Press rolls: (2) Powered 7" dia Coleman Tooth air lift press rolls with down pressure Feed Rolls: (4) Powered 4" dia with Coleman Teeth Feed Drive: 5 HP Arbor: 1800 RPM, 4" dia chromed with double keys, 125 HP motor, belt driven Kickback fingers Infeed Table: 7' Long Shifting: Equidistant Air Shift, (2) Moveable ball bearing collars, (2) shifting rod assembly, 1/4" sets 3.5" - 16" Laser lights Electrical Panel

Carolina Machinery Sales, Inc

704-288-1904 Pendu Splitter Saw Max capacity 12" x 12" Cant 36" Working height Double Arbor Arbors: (2) 50 HP motors, (4) 16" Strobe Blades 5' Powered infeed roll case with automatic chain infeed Automatic blade adjustment: 4" - 8" from fence (2) Automatic top hold down pressure rolls

Carolina Machinery Sales, Inc

704-288-1904